This may be a bit of a reactionary thread but after yesterday's E3 showing I think this idea will hold up.
We have heard a lot about how Xbox has a ton of great studios, but they are either unproven (which is usually incorrect) or the games are very far away (in reality, not really). After yesterday's showing, I feel extremely confident in saying that the "distant future" of Xbox having an avalanche of great games and a game changing service in Game Pass is finally here.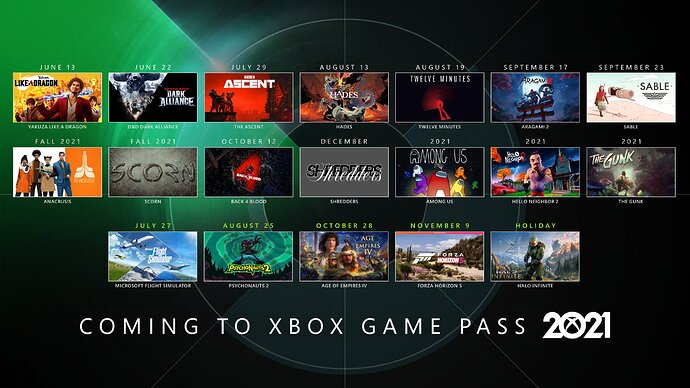 Just from this image alone we see the tip of the iceberg of what the Xbox ecosystem will look like. A strong mix of anticipated first party titles mixed with quality third party games, releasing in rapid fashion in consecutive months. This picture looks like insane value now, but I reckon in a few years this will look rather normal and might end up feeling "light" in retrospect.
This image here shows what we can expect soon and in the future, but doesn't even begin to show the full picture of what we can expect from Xbox's first party output and third party deals. Any publisher or platform would consider this image a triumph, an incredibly diverse set of games that will be coming to the platform in the coming years, but that is just a portion of what we can expect from Xbox.
Missing from the image is Hellblade, Fable, Indiana Jones, InXile's next game, Everwild, Avowed, The Elder Scrolls 6, Project Dragon from IOI and much more. That doesn't even include the games that are assuredly being discussed right now, including new partnerships, game ideas, and acquisitions.
Xbox is currently in a position where they will soon have the clear best games (personal opinion of course) and also clearly the most games by far (more of a fact) than basically any platform or major publisher. Satya Nadella has recommitted to Xbox saying that Microsoft is "all in on gaming", and we are starting to see that become a reality. And this is only the beginning. Xbox will continue to grow and invest, making the currently loaded crop of exclusive games and gamepass deals seem miniscule. It's truly an exciting time to be an Xbox fan where I belive the platform is about to take off into the stratosphere and become the clear leader in multiple areas. I hope you're as excited as I am.