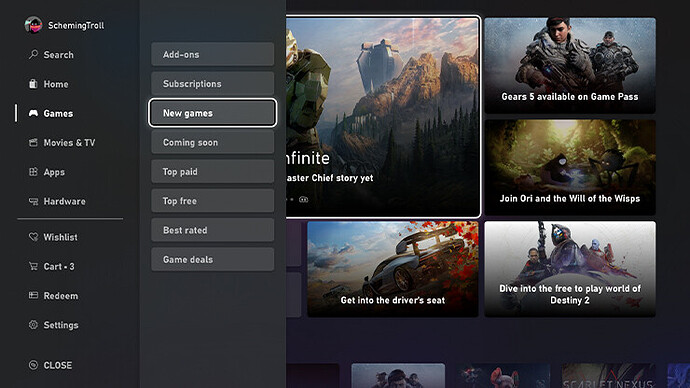 A few things to note
•I'm a game collector (900+ digital bad bois + 100s of physical) I feel like I'm qualified to complain

•Achievement Hunter
•Grade A Sucker for sales
I'm probably alone on this one but hear me out. You can't actually see every game in the store. You can only search the last 930 newest releases and thats constantly changing, so if you aren't checking the store alot you may miss a hidden gem or a game that's completely your jam because it's too far down the list or completely pushed off. Even if you search by genre, that only brings up a handful of AAA releases that have barely changed, same with the 'id@Xbox spotlight' for me its been the same games for months now. I find this to be completely unacceptable.
I want it to be like the Backwards Compatibility section because I'm pretty positive it shows all of those. The "Games We Picked For You" is a great tool but sadly only shows 500 games. I do use the wishlist feature to keep tabs on games I want but that's already a complete mess because it's 100+ and always growing. It's disappointing I have to use TrueAchievements to see every game that's available to me on this platform.
My Wishlist for the store
Show All Games button. I wanna see all the way back to good ol 2013 to now.
The Removal of duplicate editions of games, there should be only 1 listing for a game, keep the "what edition" prompt we already have.
Kick those damn Win10 99 cent games off the store
The ability to hide already purchased games
Thank you for dealing with my rant.