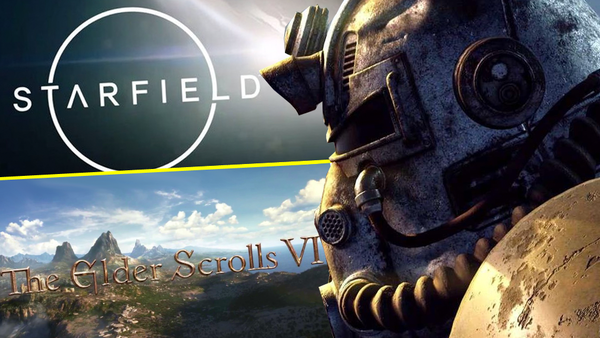 Fallout, The Elder Scrolls, and as of now Starfield, are three of the biggest IPs that Microsoft holds. Fallout and The Elder Scrolls in particular are simply blockbuster games that completely dominate the conversation whenever the release.
The Elder Scrolls IV will arguably be the biggest game that launches… ever? Words can't really describe how much attention that game will draw. The next Fallout will draw almost as much attention, and even if the franchise has seen a small decline in reputation over the last few years, the series still holds a spot as one of the premier franchises in all of gaming. Starfield has yet to release but still seems to have an incredible amount of anticipation and hype behind it. Starfield will undoubtedly be the biggest game next year if it can deliver on its promises.
These three franchises are incredibly important pillars to Microsoft, but unfortunately there is just one big problem. The cadence in which these games release is unsustainable. I'm not talking about a problem of releasing every year like Call of Duty, I'm talking about each game seemingly having a minimum of a one decade gap between each new game.
Games are more expensive than ever to make, and that also means more time being put into development. Bethesda Game Studios on average spends 4 or so years on development for each game, and with Starfield being put into the mix, that means, assuming a perfect development cycle and Bethesda rotating to a different franchise every time, each new entry in these series will have a 10+ year gap.
Of course, there are examples like a Fallout 76 or The Elder Scrolls Online, but those just simply do not compare to the mainline, single player focused entries.
I believe that Bethesda, BGS, and Microsoft need to come together to discuss the future of these franchises (I'm sure they have already) but I believe one outcome has to happen. Let other internal studios create these games with the oversight and input of BGS Maryland to avoid long gaps in between games. We have already seen this work with games like Fallout: New Vegas, which was a perfect collaboration between Bethesda and Obsidian. I'd like to see something similar between Bethesda Maryland and other studios. I'd love to see BGS Maryland, who is currently overseeing Fallout 76, have the creative freedom to create their own single player Fallout game. Or, if they're up to it, make their own TES game. I'd love to see this same collaboration happen with other studios as well.
The fact is, these franchises are too valuable to lie dormant for as long as they do. There are too many talented studios under Microsoft & Bethesda to allow these franchises to waste while Maryland is cycling through these 3 franchises. So the next time Todd Howard and Co are working on the next entry of one of these franchises, I hope some other talented Xbox studio is also working on an entry on one of the other franchises.
Thanks for reading, sorry if this was a bit scatterbrained, I just had to let these thoughts out.