As a Liverpool fan, I always rated rugby as a sport
Liverpool is just having a rough season.
yeah man. We're still in CL but I don't have high hopes. We just have to maintain being in top 4 now
Juventus' hopes of winning a 10th straight Serie A title were dealt a major blow after Benevento ended an 11-game winless run to win away 1-0

The defeat leaves third-placed Juve 10 points adrift of leaders Inter Milan.
I conceded that this will likely be Inter's title a couple weeks back, this defeat probably seals the deal. Can survive with a 2nd or 3rd place for a year or two after 9 titles

I think that we could beat Real Madrid. A semi final berth would be a good run for them
A football thread? Hell yes! Football is awesome.
I support a small club in the Netherlands who promoted in 2018 after being down for 16 years. This season they're already safe from relegation and playing for a spot in the top 9. This is by far the best season since I first went to the stadium (18 years ago). It's a damn shame we can't visit the stadiums right now, but still incredible to see!
As far for international football, I can't get enough of it. My dad and I really love seeing matches in other countries. The first match in England at Anfield (Liverpool) and the Milan Derby (just before COVID hit) are amongst my favourites, but traveling through Germany with some friends from Borussia Mönchengladbach on awaydays was a time I will never forget.
I can go on and on, but I'll end here with a question: do you have any advice on which matches my dad and I should definitely go see after the pendamic?
Fortuna? Giving us (Heerenveen) a hard time!
Haha bingo! It's really weird to compare ourselves with clubs as Heerenveen and Twente this season. Normally we would have to watch to the teams at the bottem😂
Ireland

lost at home to Luxembourg

in the World Cup qualifying group. Up there as one of are worst ever results


This was Luxembourg's first qualifying win away from home since September 2008.
Well, that's an achievement I guess.
Germany

just lost at home to North Macedonia

in the World Cup qualifying group


Holy shite. I was hoping for some giant killing but this was wack. I hope we see more. I mean there was Luxembourg and Ireland but Ireland has been dire for a while now
Yeah. But they will make the WC, and make it to the quarters at least.


Inter Milan's first Scudetto since Jose Mourinho won both Serie A and the Champions League in 2010.

Quite an achievement when you consider that Juventus were going for a record 10th successive title!

Just found out @Shpeshal_Nick is a United supporter. As a Liverpool fan, I know that our season is over so I'll just leave this here.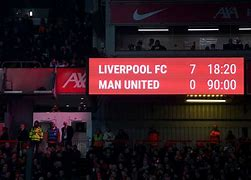 Happy Friday everyone!