It was like that for me a few hours ago. MX Unleashed is still showing as free for GwG
Interesting. "Bought" Red Faction on 360 but it's not showing up on my Ready To Install list

Same here, can't claim Red Faction…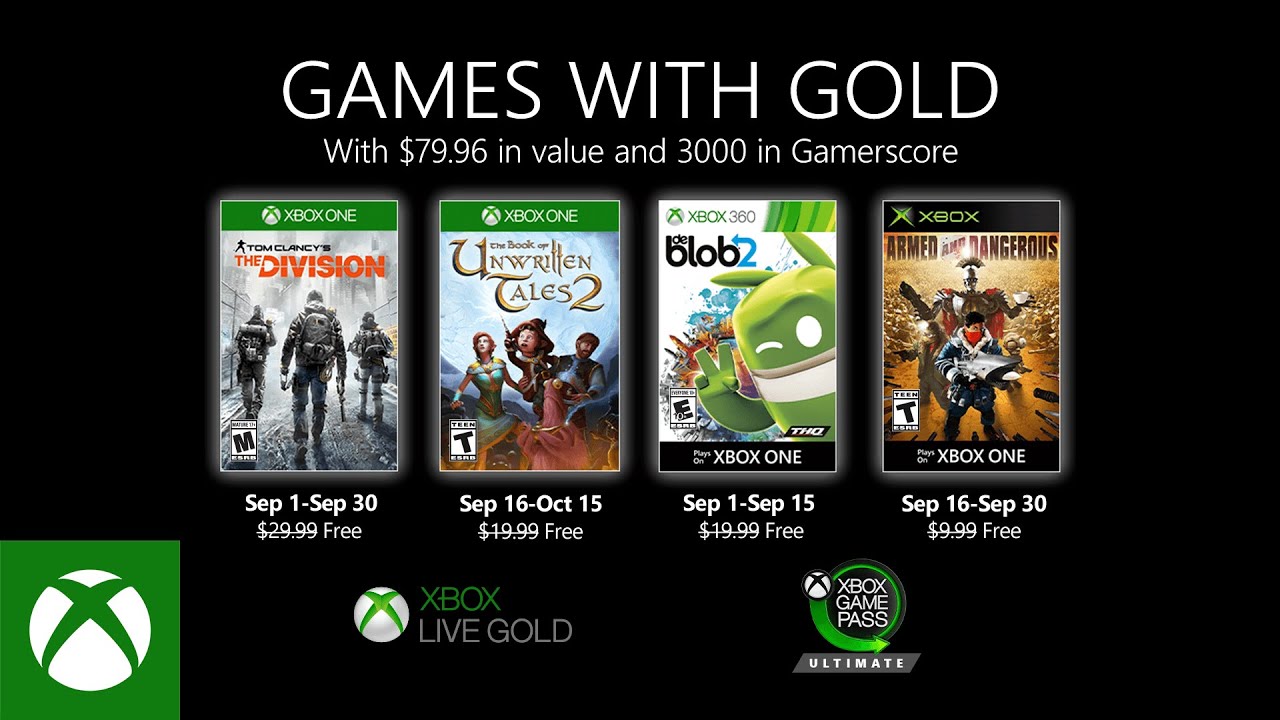 In September we get The Division, The Book of Unwritten Tales 2, De Blob 2 and Armed and Dangerous. Surprisingly Forza Horizon 3 isn't one of them.
Book of Unwritten Tales 2 is a pretty solid point & click adventure if you like these type of games.
If it's possible to claim it… I still dont get Red Faction to work.
Rest is meh.
Hah, a month where I'll maybe download something, instead of just redeeming and forgetting about it. Nice.
Legimitmately interested in de Blob 2, I enjoyed the original on Wii.
Might also get The Division - is it any good solo or with one other person? And is it ok with just the base game or do you need to pick up a bunch of semi-mandatory DLC?
Division is legitimately great, though I already have it. Armed & Dangerous is an underrated game from a different era, and it's the one shooter that has a LAND. SHARK. GUN.
No interest in Unwritten Tales 2. De Blob 2 is an okay get, think I played the first one. Not the best month for sure, it clearly shows Microsoft is more interested in Game Pass nowadays.
The division has a nice campaign, so you should be able to enjoy it solo, or in coop. It's okay with the base game without dlcs.
Month is okay, I have some of those already but I'll take Armed and Dangerous to continue building original Xbox library digitally.
If they decide to drop Gold subscriptions, I want them to continue the Games with Gold service on Game Pass games, but evolve it a bit. It would be nice if you could choose 4 games a month that are your "Gold" games. This would allow you to keep those games even if they leave the service. Granted I'm sure they would still require you to be a Game Pass subscriber(maybe only Ultimate) to play them. This wouldn't be needed for 1st party games that are on the service since they're not suppose to leave anyway.
Man games with gold have been awful as of lately. I feel like they try not to give away good games and keep them on the gamepass service instead.
Or it's games that have allready been on Xbox Game Pass

The OG Xbox games are nice though.
If you're a fan of adventure games The book of unwritten Tales 2 is a must. Lots of really cool references to well loved TV shows and games too.
So, yeah, Armed & Dangerous (an Xbox game) is being treated like an Xbox One GwG game. Meaning: you do not permanently own it. This is the first time an original Xbox game has been treated like this. Hopefully it is just a screw up & not permanent.
I couldn't even claim Red Faction so that would actually be an improvement…