iunderstoodthatreference.gif
Darksiders is pretty good, kinda with the couch co-op was more like Diablo though instead of split screen.
Anyone else playing Undermine?
Still playing through Yakuza Kiwami 2. Yakuza games are big and i love it. I'll probably play final fantasy 7 once I'm finished with it.
Great thread, OP. Kudos for listing all of those games.
In the final stages of my Minecraft Dungeons grinding. Two more achievements and I'll have my 100%.
After that, I'm on to What Remains of Edith Finch.
It's a cliche at this point, but GP truly is the best value in gaming.
Playing through Darksiders Genesis, and thoroughly enjoying it. Have to say I am enjoying the games Airship Syndicate are developing, they are a very talented team. One I'd even say MS should consider picking up, a lot of potential with that team.
Anyone playing on the One X noticed an annoying blur issue when playing in local co-op? Its there half the time when I play with my son.
I thought that too, shame they didn't try to merge the screens for gameplay. Also odd they couldn't manage 60 fps on the One X, the game animates really well.
LEAVING SOON
Xbox Game Pass/Console
Creature in the Well
Giana Sisters: Twisted Dreams - Director's Cut
Metal Gear Solid HD Edition: 2 & 3
Metro Last Light Redux
The Jackbox Party Pack 3
Xbox Game Pass/PC
.
On a side note, Devil May Cry 5 (console), Kingdom Come: Deliverance (console/PC) and Space Hulk Tactics (PC) are still available on the catalog.
I've been playing Wasteland 2 while waiting for Wasteland 3 and it's really, really good.
Dude I love that game. It's quickly becoming my go to game.
I'll have to buy Jackbox 3 and Creature in the well
Yeah, it's bloody great. At least 20 hours put into it now.
I really liked Creature in the Well, one of the great indie surprises we had last year.
Wonder what we will get this month apart from the first party stuff?
I don't know, but Spiritfarer surprise launched on the Switch today and other platforms such as Xbox later today I think. And this was previously announced for Xbox Game Pass.
Ooh, nice! Hope it shows up on Game Pass too then.
Spiritfarer is available now, on console and PC.
Another announcement from the Nintendo Indie World Showcase is Hypnospace Outlaw (august, 27, Game Pass/PC).
Man, sounds like I need to put Spiritfarer on my Game Pass play list for sure as it has some great initial reviews!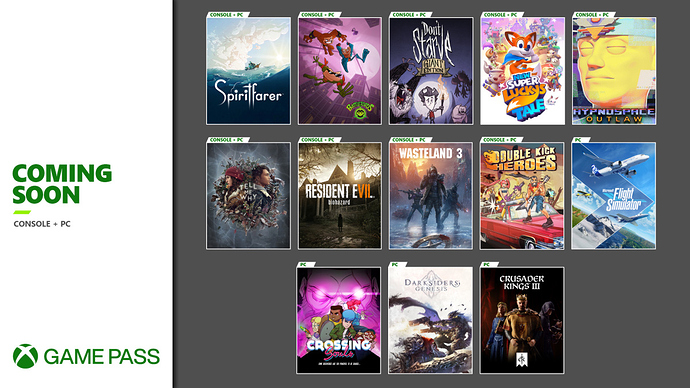 Available today: Microsoft Flight Simulator (PC) and Spiritfarer (console/PC)
Aug, 20 - Battletoads (console/PC), Crossing Souls (PC), Darksiders Genesis (PC), Don't Starve: Giant Edition (console/PC)
Aug, 21 - New Super Lucky's Tale (console/PC)
Aug, 27 - Hypnospace Outlaw (console/PC), Tell Me Why: Chapter 1 (console/PC)
Aug, 28 - Double Kick Heroes (console/PC), Wasteland 3 (console/PC)
Sep, 1 - Crusader Kings III (PC)
Sep, 3 - Resident Evil VII (console/PC)
Leaving soon
Aug, 31: Creature in the Well (console/PC), Giana Sisters: Twisted Dreams – Director's Cut (console), Metal Gear Solid 2 & 3 HD (console), Metro: Last Light Redux (console), The Jackbox Party Pack 3 (Console)
Sep, 1: NBA 2K20 (console)
Sep, 7: Red Dead Redemption 2 (console)
Yo, this is nuts. We knew about the first-party games (Tell Me Why, Battletoads, Flight Sim, and Wasteland 3), bur we're also getting Day 1 releases of Spiritfarer, New Super Lucky's Tale, Hynospace Outlaw, and Double Kick Heroes?!?