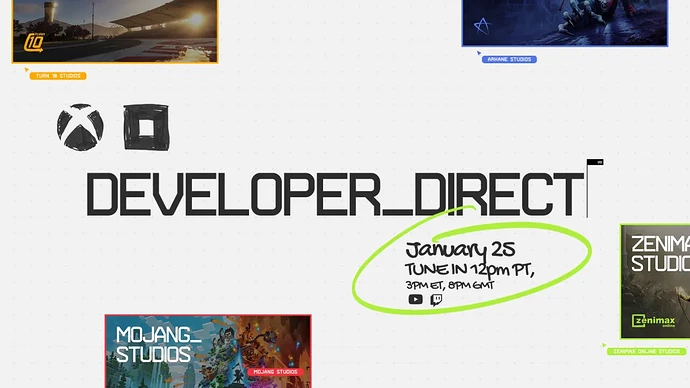 Originally published at: Xbox Developer_Direct Showcase coming January 25th. Redfall, Forza Motorsport, ESO, and Minecraft Legends. Starfield show in the works. - XboxEra

What You Need to Know
Xbox has officially confirmed the rumored January 25th developer showcase
Games showcased will be previously announced titles such as Elder Scrolls Online, Redfall, Forza Motorsport, and Minecraft Legends
Starfield is confirmed to have its own show in the works
No hosts! Just extended gameplay deep dives from the developers
It will air at 1 pm EST on the official Xbox YouTube and Twitch channels
The Xbox Direct
Xbox has finally confirmed the long-rumored January showcase. It is happening on January 25th at 3 pm EST /12 pm PST. Four games will be showcased at the event, which will feature no hosts. Elder Scrolls Online, Forza Motorsport, Redfall, and Minecraft Legends will have developer-extended gameplay deep dives. Starfield was mentioned as having its own deep dive show in the works, which should quell fears about another delay for the massive title. You can find the entire blog post below as well as a tweet from Aaron Greenberg clarifying what the show will be.
It also appears that some Game Pass news may be coming? The Xbox Game Pass twitter account shared this
---
Join us on January 25th for our first Developer_Direct. A new approach with no hosts, to share the magic of being inside our studios seeing extended gameplay & hearing directly from the dev teams working hard on some of the games coming for you. https://t.co/PfitWOIsX5

— Aaron Greenberg 🙅🏼‍♂️💚U (@aarongreenberg) January 11, 2023
---
Xbox and Bethesda to Present Developer_Direct Livestream on January 25
by Xbox Wire Staff • Jan 11, 2023 @ 7:00am
Xbox and Bethesda will present a Developer_Direct on Wednesday, January 25, providing fans with an inside look at some of the games coming to Xbox, PC and Game Pass over the next few months.  
Presented by the game creators themselves from studios including Arkane Austin, Mojang Studios, Turn 10 Studios, and ZeniMax Online Studios, the Developer_Direct will focus on big features, extended gameplay showcases, and the latest info for Xbox games launching in the next few months, including The Elder Scrolls Online, Forza Motorsport, Minecraft Legends, and Redfall.  
To dedicate the proper amount of time for a deep dive into Bethesda Game Studios' Starfield, a standalone show is in the works. 
Fans should tune in on Xbox channels (Twitch, YouTube) and Bethesda channels (Twitch, YouTube) at 12pm PT/3pm ET, January 25 to see all the latest on:  
The Elder Scrolls Online: Studio Director Matt Firor will unveil 2023's major Chapter update, including the latest regions of Tamriel to become playable in ESO, as well as a major new feature coming in the game's biggest update this year. The Developer_Direct will be immediately followed by the full, standalone ESO Chapter Reveal Event, hosted by Zenimax Online Studios, which will provide all the in-depth details ESO players will be keen to know. 
Forza Motorsport: The team at Turn 10 Studios have been hard at work, bringing fans the next generation of Forza Motorsport, built from the ground up to take advantage of Xbox Series X|S. Forza Motorsport is back, and we can't wait to share more gameplay and exciting new details. 
Minecraft Legends: Mojang Studios will showcase an insider's look into the PvP multiplayer experience in Minecraft Legends – the upcoming action-strategy game from the makers of Minecraft. Developed in partnership with Blackbird Interactive and launching this spring, don't miss exclusive gameplay footage at the Developer_Direct. 
Redfall: The minds behind Dishonored and Prey, Arkane Austin, will showcase several minutes of gameplay from their upcoming FPS. The Developer_Direct will reveal single and multiplayer gameplay, showing more of how you and your friends will take down bloodthirsty Vampires on the picturesque island of Redfall, Massachusetts. Fans can expect to learn more about combat, customization, bosses, the open world, and more. 
Stay tuned to Xbox and Bethesda's official social channels for more on the Developer_Direct, coming on Wednesday, January 25 at 12pm PT/3pm ET.