I'll Start

I don't have any special ones I'm just here waiting for someone to flex the master chief collection completion
It is not my best but not easy to get (imo). Only 213 gamers that are registered on TA have a 1000 GS with that game!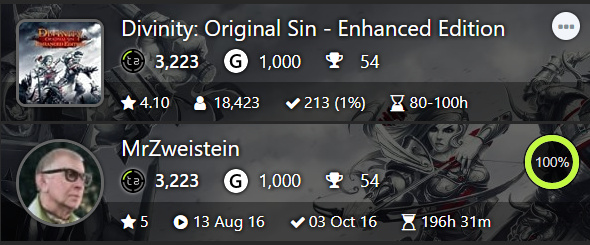 TrueAchievements also tells me those are my best achievements (the higher the TA Score the more rare they are):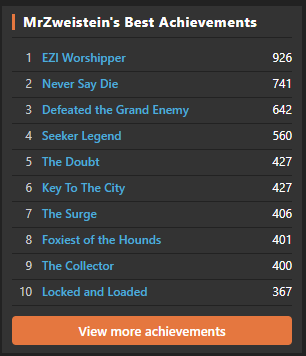 Cant upload apparently as I am a new user.
Assasins creed odyssee 1840 out of 1840

203 hours worth of my life.
Also 1000 pointed most lego games.
The worst part about Witcher 3 was the loading time. I think I died about 100 times and waiting till I'm back in the game takes forever.
My hardest was completion was probably Monster Hunter World. Playing Solo and getting all crowns was no laughing matter.

The hardest series was Yakuza. Those Minigames and challenge modes are sometimes really hard.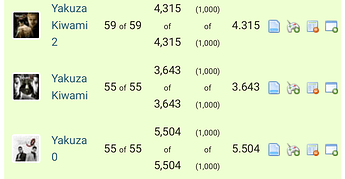 And the hardest achievement was definitely Hollow Knight because of the boss rush achievement.
@CryOn Good work man. Don't think I have the patience for trying to get 100% in the Yakuza games. I love them but man they can be loooooong

Thank you. Some of those minigames are so bad. Clunky gameplay or just straight up luck. The newest Yakuza Kiwami 2 on Xbox is actually not that hard. Except for those mahjong completion of course

Probably Your Shape, had to really work my ass off for this.
[quote="Razkaii, post:2, topic:2060"]
I don't have any special ones I'm just here waiting for someone to flex the master chief collection completion
[/quote] LOL
Gears of War 2,Red Dead Redemption & Project Spark.

I had 1000G for Fallout 4, GTA V (both xbox one & 360) and Mortal Kombat X but they've since added DLC achievements and now it's ruined. I have about 40 completions.
My most proud completion is probably MGSV: The Phantom Pain
As well as these
Apparently my rarest achievement is the "All the Time in the Wurlde" achievement in Rare Replay.
Oh man. I still get PTSD from getting the 100% on Project Spark.
Both Xbox and Win 10 versions, btw.