So I just watched "The Endless" yesterday. Solid movie, really made me think. Afterwards I looked up discussions about the movie, and it turns out there was another film made by the same people a few years ago, called "Resolution", that's directly connected…
That's next on my list.
Just rewatched There Will Be Blood. That movie is a masterpiece. Not sure what's next but it maybe a other PTA film.
This director, Lanthimos, kinda pisses me off. I loved The Lobster, but hated Dog Tooth. The Killing of a Sacred Deer falls closer to the latter.
Dude's gimmick is getting stale. Disconnected, odd and stilted dialogue, constant zooming and tracking shots, and just a whole "I'm going to make you feel eerie and uncomfortable watching this scene even if the script in no way calls for it" throughout. It feels hella-forced and in no way properly earned. I can see all your little parlor tricks, Mr. Lanthimos. You're diet Lynch, but far far far colder.
It's annoying. Then the movie just ends with an ominous scene that is supposed to make you think, but - meh, like, not really. The filmmakers are trying to capture and say something about the human condition but fail miserably - don't kill your kids? don't drink on the job? something about the predatory nature of humanity? Like I said - meh, like, not really. Purposefully unfulfilling endings only work so many times.
It's definitely a schtick and its wearing super thin. Guy's entire style intentionally off-putting and it makes for a difficult watch every time. The movie wants to be a lot more meaningful than it actually is. While I'd never argue that the movie isn't unique, I'd have a difficult time recommending this to anyone.
Watch The Lobster again instead.
7/10
Binge watching Better Call Saul. Never finished Breaking Bad but probably will go back to that next.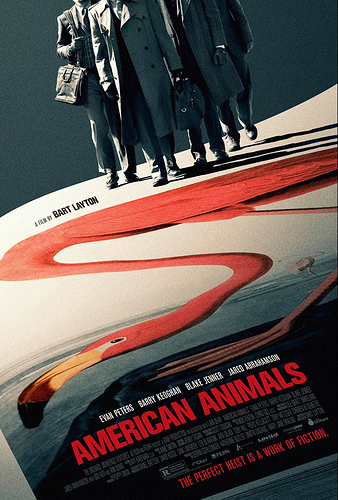 AMERICAN ANIMALS
So, this was a real surprise. It is a really interesting take on the heist film and honestly is not, in any way, what I was expecting. It does something I haven't really seen in cinema outside of Kiarostami, and I want to talk about it A LOT but to say more would be to spoil the surprise. Let's just say it's a heist movie based on a true story and if that floats your boat, please check it out without finding out anything more. I promise you'll be rewarded.
Just watched Ready or Not -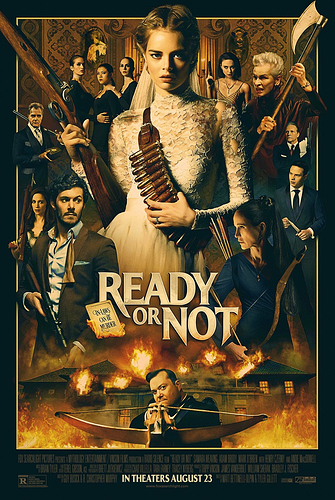 Really good fun, reminded me in a lot of way of Cabin in the Woods. Not the best movie in the world by any means, but I really enjoyed it.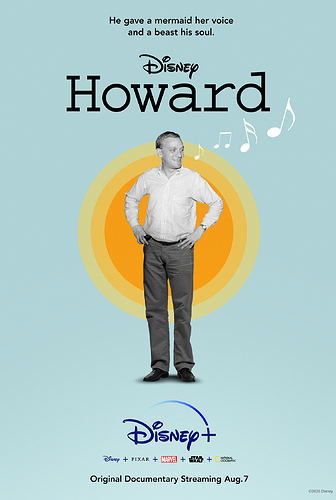 Watched Disney+'s Howard the other night. This is a documentary about Howard Ashman, who created the Little Shop of Horrors musical, and wrote the songs for Little Mermaid, Beauty and the Beast, and Aladdin.
Wonderful and moving. A fantastic portrait of an artist. I was curious about how Disney would fare in handling his sexuality and AIDS. But, I was pleasantly surprised. The entire last 40 minutes of the film had my wife and I in tears. The fact that an official piece of Disney media posits that large parts of Beauty and The Beast may have been written about the Aids epidemic is kind of crazy to me.
Last night I watched Midsommar and Knives Out. Here are my reviews in gifs.
Midsommar
Knives Out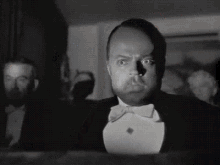 Last Friday I watched The Godfather. It was the first time that I watched one of the three films. Really great movie, maybe one of my favorites (I'm not the frequently movie watcher)
Watching this gem at the moment. Can't go wrong with a dumb action movie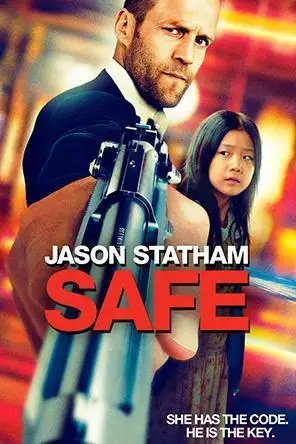 Just saw Tenet. I was pleased yet his other movies are better for me.
Project power last night, if you don't expect much you will enjoy this Netflix film.
Had a lot of boxes to unpack and stuff to clean, so I decided to rewatch all the Back to the Future movies. So good.
Blade runner and 2049. So good, my favorites.
Tenet yesterday! Awesome movie, action-packed, very intriguing and original base concept (a Nolan film, after all), with amazing sound.
Not a movie, but I've been watching Black Omnibus with James Earl Jones on Night Flight Plus. It's a really remarkable time capsule.
This is the complete Black Omnibus, recorded in 1973 featuring live performances and conversations with the day's most prominent African American athletes, entertainers and cultural figures. Shot in Hollywood, California, and hosted by James Earl Jones, Black Omnibus includes Richard Pryor, Rufus Thomas and the Bar-Kays, all of whom were in town for the legendary Wattstax Music Festival that year which was attended by over 100,000 people.
It's from 1973, and the episode I watched last night had 90 year old ragtime pioneer Eubie Blake, whose father was a slave. Incredible to see a direct link to the past like that.
A Quiet Place. An extremely tense movie with a brilliant ingenious base concept, that completely had me on the edge of my seat throughout my viewing. Absolutely can't wait for Part II next year.
Mind Hunters. Waiting for Season 3 now
I watched Forgotten on Netflix yesterday. I was in the mood for some Korean cinema and it was another reminder why I love it so much.
It's a thriller/mystery, and I would say if you liked Oldboy you'll appreciate this too. Oldboy won't be topped, that's just on another level but Forgotten is great! The other day I watched The Outsider. Jared Leto as Yakuza. Quite enjoyed this one too.