this looks good
now i want a raytracing patch for forza horizon 4

And people said Ray Tracing wouldn't be there at launch. It is beautiful !
Jez saying they reviewers of the console don't have this version yet. Makes sense that GDK is coming in late but improving all the time. Also perhaps shows why Xbox Series X footage is a slow drip. Waiting to show the best versions.
This is just eye candy. Best looking next gen footage I've seen so far…
Anyone doing screenshot dissection analysis of this ?
Lol
John from DF was just proven wrong. "No games with RTing at launch," well how does he explain this?
In fairness he said he had forgotten about Watch Dogs.
And a couple other games (Observer and COD)…
Also, for you…here is the RTing.
Indeed. Though I do hope this puts that narrative to bed.
And if that is without the final performance or api support and will improve later on with the new GDK (not accounting for devs getting their hang on the hardware) then we are in for a treat

Oh yeah this is great! Reviewers don't even have this version yet so sounds like speculation that these things are a bit last minute on Xbox side are true. Probably just as well they got ahead of this because imagine them releasing reviews of the console next week showing this game without ray tracing. The internet would blow up. Probably still will but at least we know what to expect day one.
And it earned Ubisoft a sale as I want to experience this now.
Did anyone notice the "missing RTing" detailed in the PS5 version?
so far PS5 WD legion will only have RT for hologram it seems, no RT reflection, RT shadow etc…The comparison should be interesting considering that the XSS can do Full RT like XSX.
What a difference a gameplay does, they should take note (of course there should be some NDA and stuff, then they didn't show earlier), but I went from absolutely no on WDL due to lacking a 60 fps mode to an yes, I really want to experience that.



Go back the the upgrade information they fixed the 4k and 60 on… I remember the wording being different on the RTing for PS5. Kind of like the res on AC:V (native on The X but dynamic on PS5).
I'll try to find it so see exactly what it says.
Xbox Series X | S: The near-future London of Watch Dogs: Legion will fully benefit from the hardware accelerated raytracing of the new Xbox Series X | S; from Piccadilly Circus and its giant digital screens, to Camden High Street's neon lights and holograms, the power of real-time ray traced reflections brings a never seen before level of realism to an urban playground. Early collaboration between Microsoft and the game teams allows the game to unlock the power of Xbox DirectStorage, meaning loading times have been massively reduced allowing for smoother world traversal and faster loading times than ever before. Upgrade from an Xbox One X copy of the game to the Xbox Series X | S* version with Xbox's Smart Delivery technology at no extra cost.
PlayStation 5: Ray tracing on PlayStation 5 will immerse players in a city full of digital screens, holograms, and neon lights, while players can also take advantage of the Tempest 3D Audio engine to bring London to life by hearing every passing car, talking pedestrian, or drone flying overhead. Thanks to the ultra-high speed SSD, loading times will be dramatically reduced, allowing for even quicker fast-travel and seamless high-speed drives across London. Adaptive triggers enable players to enjoy hand-tuned responses, elevating the visceral feeling of high-tension moments. And lastly, you can upgrade your PlayStation 4 copy of the game to the PlayStation 5** version at no additional cost.
For comparison with PC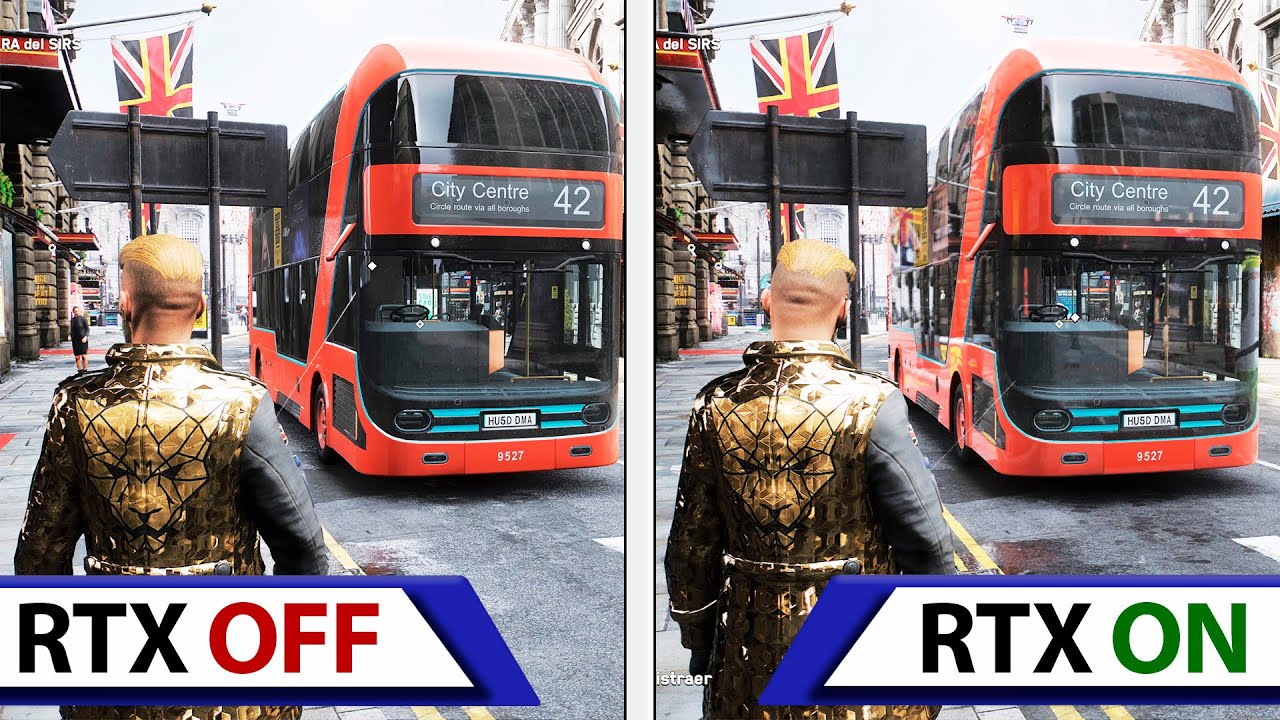 Naturally the reflections are more crisp and clear on PC, but for XSX that is real nice and this is right at launch, things can only get even better as we get further ahead.
Ah ok;
In that case I think we'll need to wait and see the comparisons. The RT at display here does seem to be better than what's been shown on PS5 thus far (couldn't pick any objects being skipped from the reflections, or using a super lower lod), but that might be just because Ubi handled it better than other devs.
Looks great, we finally hit that 2012 Watchdgos reveal. I'll probably pick it up to showcase the Series X
Also possible that it a single mode that is uncapped but has a floor around 30fps too.