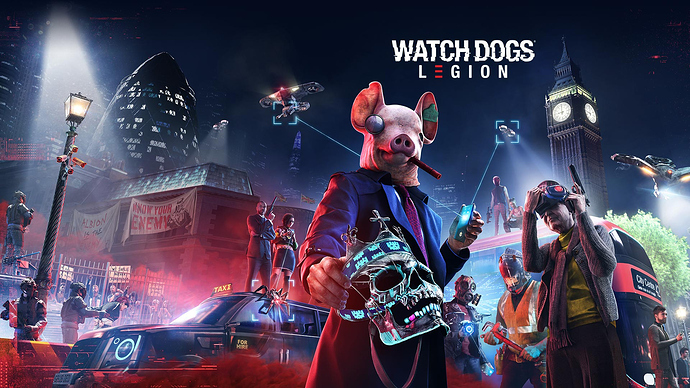 Description
WATCH DOGS: LEGION delivers a never-before-seen gameplay innovation that allows you to recruit and play as anyone you see in the iconic city of London. Every single character in the open world is playable, and everyone has a backstory, personality, and skill set that will help you personalize your own unique team. Recruit your friends and join the fight in online multiplayer to take back London in four-player co-op missions, end-game challenges, special game modes and events. Welcome to the Resistance!
---
Factsheet
Release Date: October 29, 2020 (PS4, Xbox One, Windows and Stadia), November 10, 2020 (Xbox Series X|S) and November 12, 2020 (PS5)
Developer: Ubisoft Toronto
Publisher: Ubisoft
Genre: Action-adventure
---
Story
In the near future, London is facing its downfall. After devastating terror attacks rock the city, an all-seeing authoritarian state has oppressed the people, a corrupt private military corporation controls the streets, and a powerful crime syndicate is preying on the vulnerable. The fate of London lies with you, and your ability to recruit a resistance and fight back.
---
Versions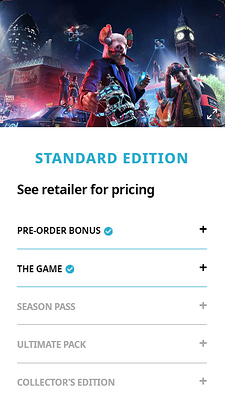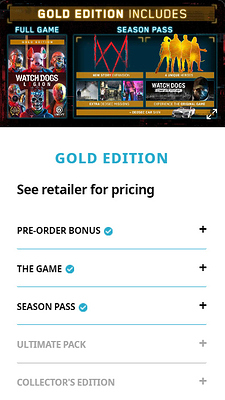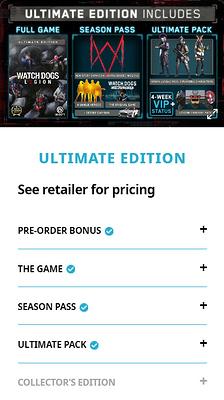 Contents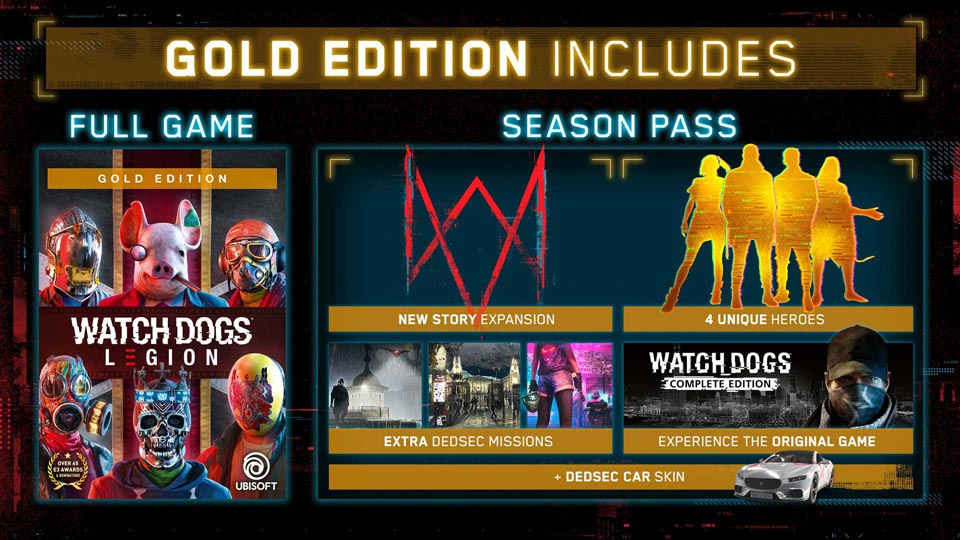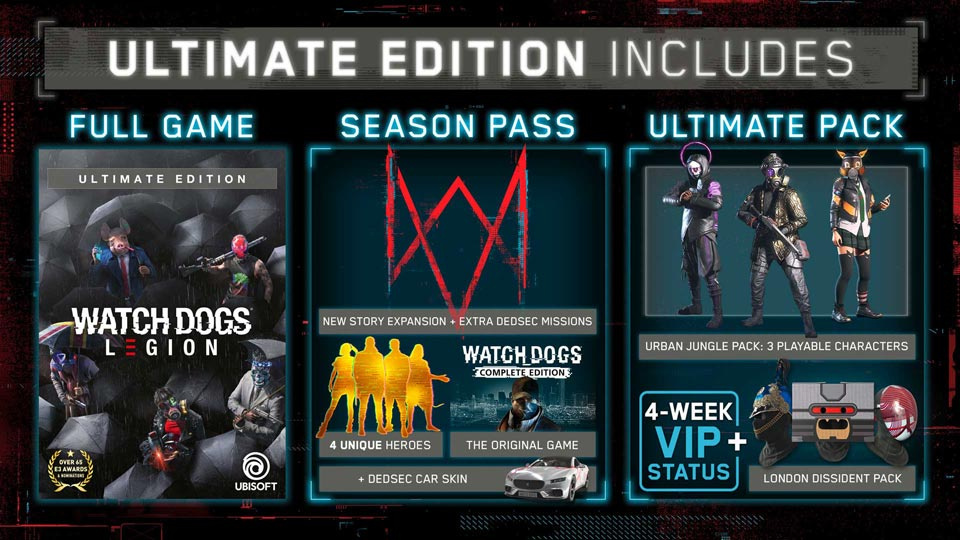 Pre-Order Bonus
Pre-order now and get the Golden King pack, featuring a golden mask, car skin, and two golden gun skins!
The Game
Build a resistance from anyone in the world as you fight to take back a near-future London facing its downfall. Experience a never-before-seen gameplay innovation that allows you to recruit and play any character. Everyone has a unique skill to help your team.
Season Pass
Season Pass includes:

A major new story expansion with two episodes,
Extra Dedsec missions,
Four iconic heroes with unique abilities including Aiden Pearce,
And access to the original Watch_Dogs® Complete Edition!
Ultimate Pack
Ultimate Pack includes:

The Urban Jungle Pack - 3 new unique playable characters
London Dissident Pack - 3 exclusive masks
4 week VIP status
Collector's Edition
Collector's Edition includes:

Lightning Ded Coronet Mask figurine
Instant access to Lightning Ded Coronet Mask in-game
Dedsec & Albion propaganda posters
Set of 3 Stickers
Exclusive Steelbook
Collector Box
---
PC Specs
Minimum Specs
OS: Windows 10 (x64)
CPU: Intel Core i5-4460 3.2 GHz, AMD Ryzen 5 1400 3.2 GHz
GPU: NVIDIA GeForce GTX 970/GeForce GTX 1650
VRAM: 4 GB
RAM: 8 GB (Dual-channel setup)
Storage Space: 45 GB
Recommended Specs
OS: Windows 10 (x64)
CPU: Intel Core i7-4790 3.6 GHz, AMD Ryzen 5 1600 3.2 GHz
GPU: NVIDIA GeForce GTX 1060/GeForce GTX 1660 Super
VRAM: 6 GB
RAM: 8 GB (Dual-channel setup)
Storage Space: 45 GB
---
Screenshots
---
Trailers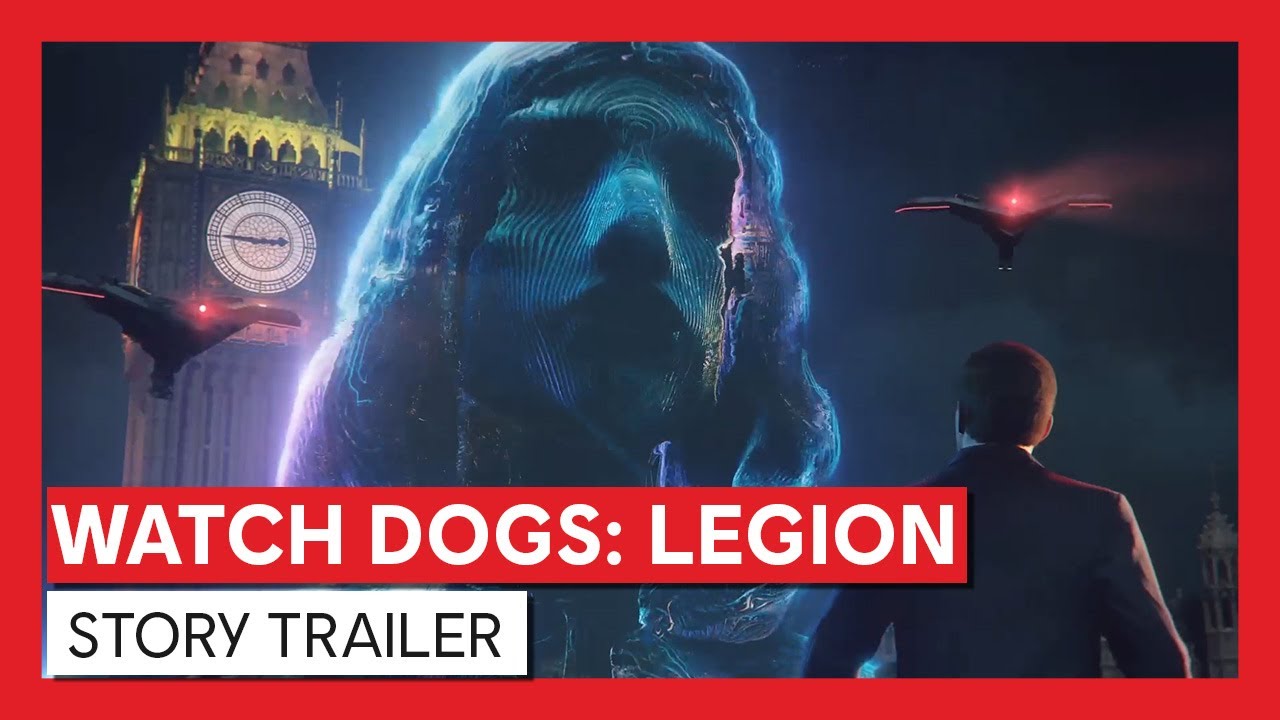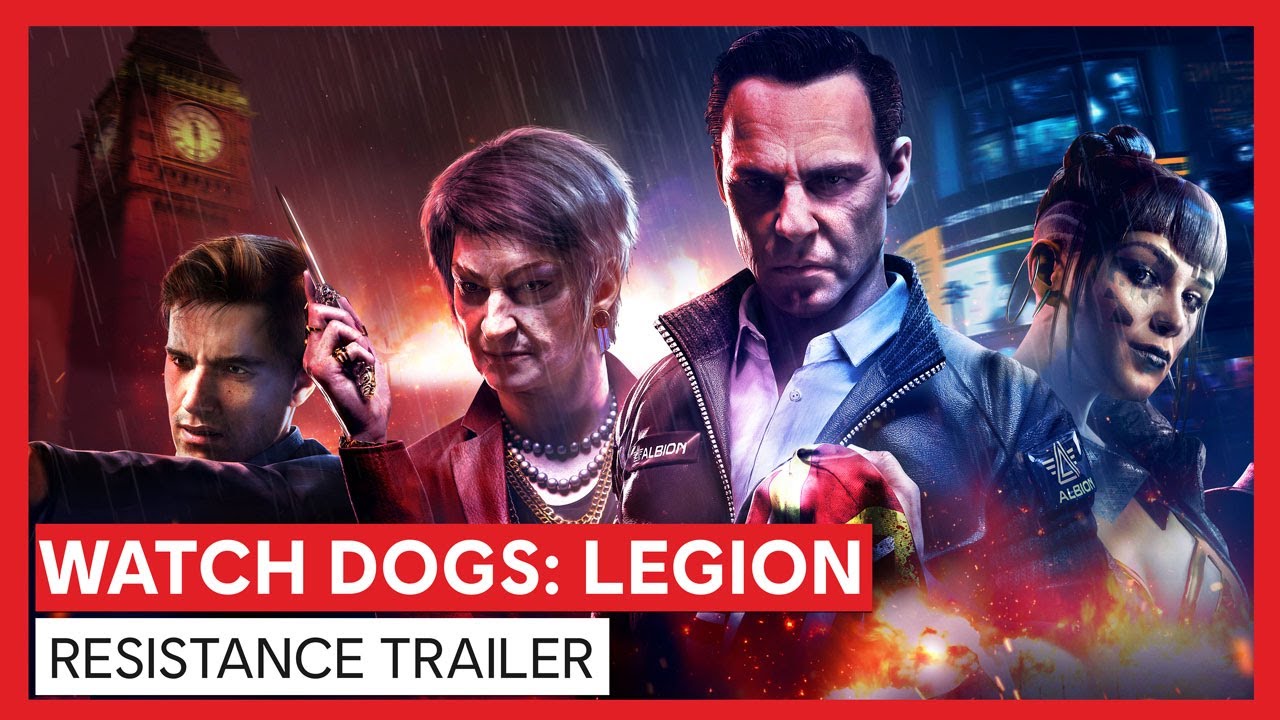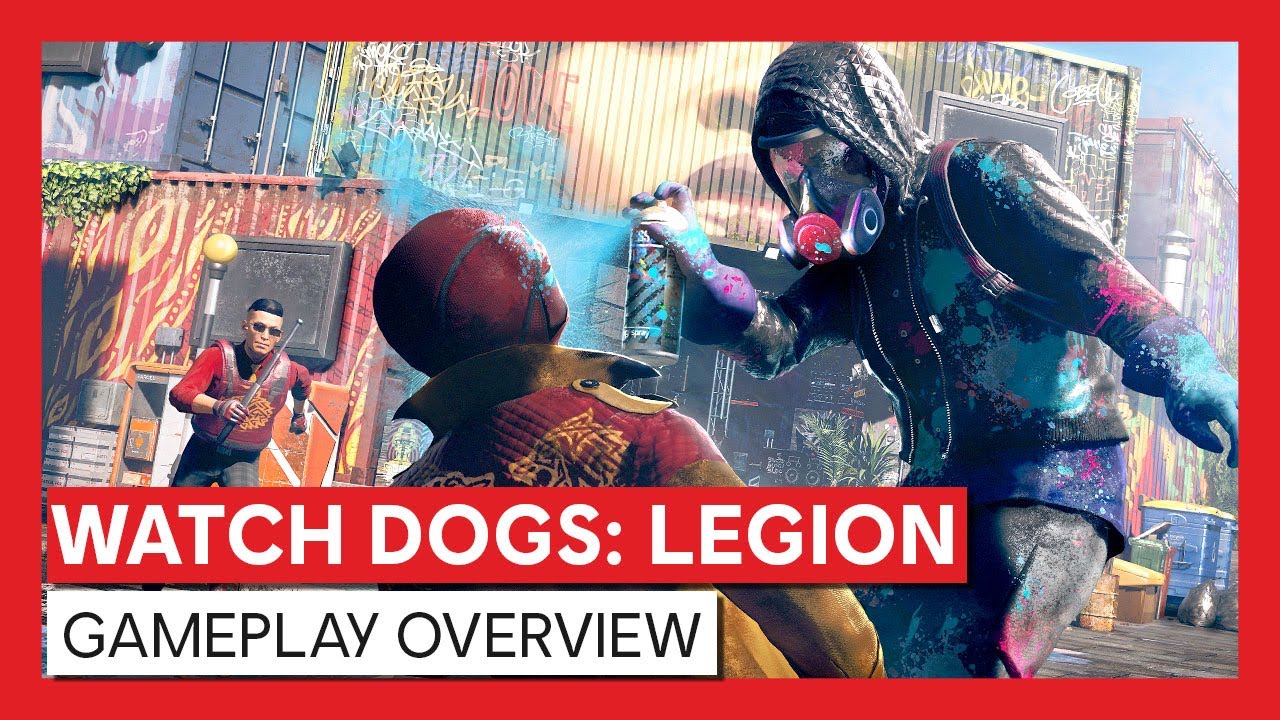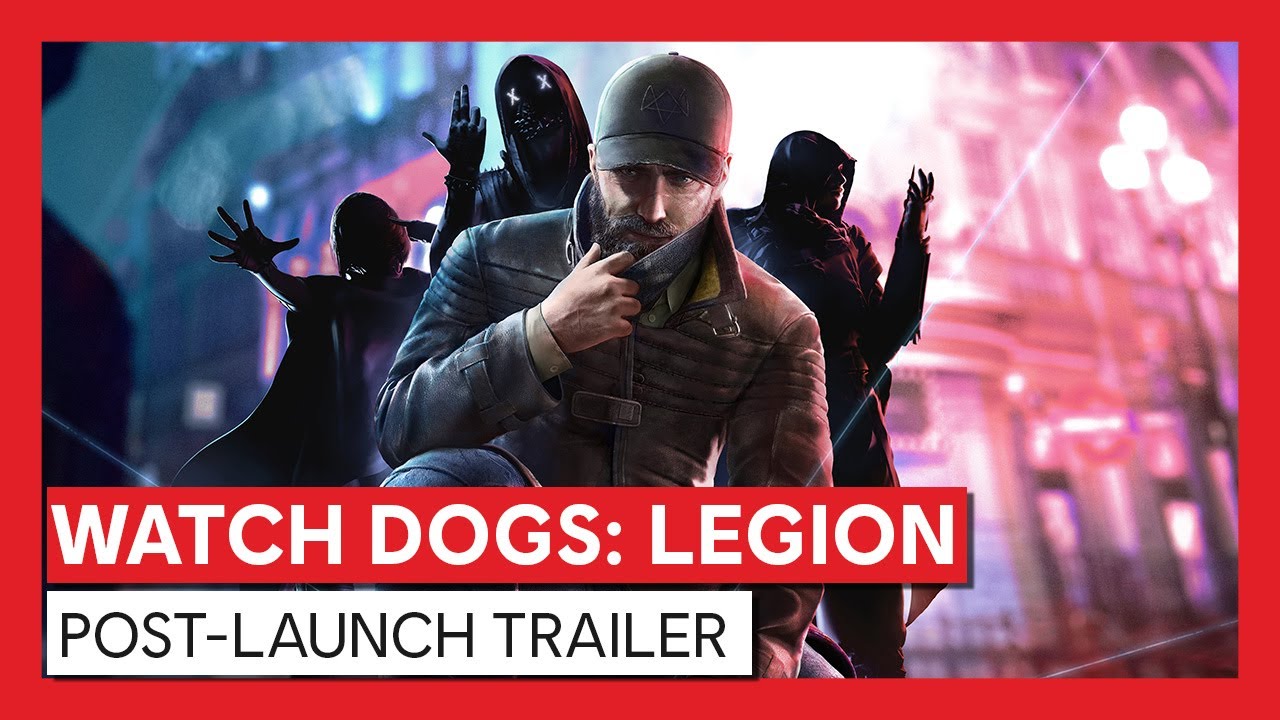 ---
Gameplay Videos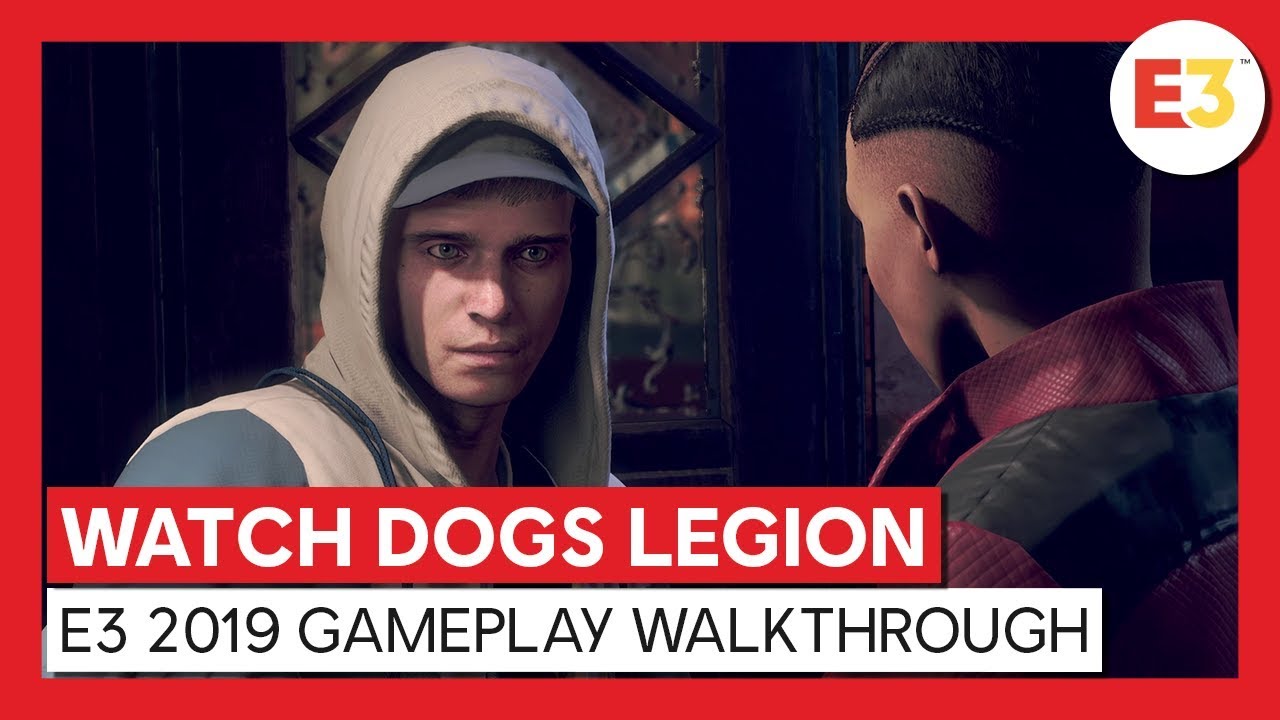 ---
Reviews
Coming soon