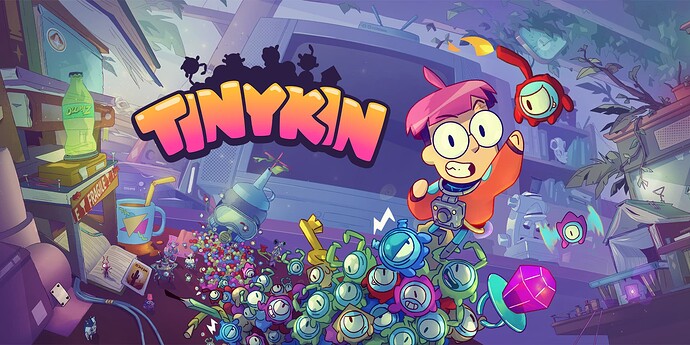 Tinykin is a game of the year contender, and I think that more people should be playing this!
It's an old-school 3D open world style platformer, commonly called a collect-a-thon, but I think it sells it short. Also, I think that calling it Pikmin-style is a huge undersell.
You play as Milodane, a human sent into space to find the true origin of humanity, but you crash land in a strange world… namely, someone's house. You're 2 inches tall and the whole house has been colonised by sentient bugs who now worship the home owner.
To get back home you need to build your space ship, and the different insects who live in the rooms have bits for it, so to obtain them you need to complete a series of main quest items in each room which unlocks the next room. It's a mild platformer meaning you need to go around and find the items and figure out how to complete the quests from the bugs.
The key unique feature of the game though is the titular Tinykin! These a colour coded wee bugs who give you abilities - red are bombs, pink are strong, etc - and you collect them and go around undertaking puzzles using them.
Honestly, I'm in love - I've just unlocked the final area (I think) and I am loving the completionist ability in the game.
It looks amazing - the worlds are huge and have a massive field of view and lots of verticality - and plays great - there is a great surfing mechanic - and the music is catchy as hell.
Don't sleep on this - it's on Xbox and PC Game Pass right now.