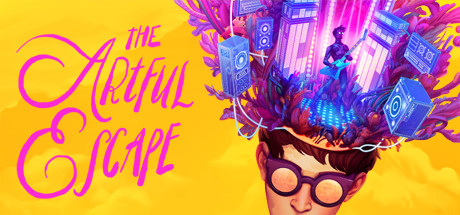 REVIEW THREAD
> A teenage guitar prodigy sets out on a psychedelic, multidimensional journey to inspire his stage persona and confront the legacy of a dead folk legend. Starring voice performances by Michael Johnston, Caroline Kinley, Lena Headey, Jason Schwartzman, Mark Strong, and Carl Weathers.
Metacritic & Opencritic:
Metacritic (PC): 80
OpenCritic: 77
Video Reviews:
Written Reviews:
The lack of challenge in The Artful Escape, not just in its play but in its emotional texture, somewhat shreds the odyssey.
While The Artful Escape does a strong job with its presentation and sense of style, it still suffers the same drawbacks as most adventure games, particularly with the boring-at-best game mechanics. The celebrity voice cast does well enough, though I only recognized Weathers during my time in the game. The trip here isn't long, though it does manage to be memorable thanks to its relentless desire to look like a Liz Frank-emblazoned Trapper Keeper. Depending on the drugs you keep handy, this could be the ticket. 6/10 space slug discos
The Artful Escape is a rockin' Space Opera but it doesn't have much going for it besides its pretty visuals and incredible music. The platforming is basic and the plot is serviceable, but it's nothing that audiences haven't seen before. I'd recommend this game only if you're a fan of rock music from the '70s and '80s.
The Artful Escape is a truly joyful musical journey through outer space in which the performances of its cast and the quality of its soundtrack are every bit as stellar as the eye-popping celestial realms it crisscrosses through. It's not for those who're after a traditional platforming game challenge, and if listening to indulgent '80s-style guitar solos doesn't appeal to you then Francis' nonstop noodling may well get on your nerves. But if you're up for an infectious mix of goofy good humour and brazen guitar worship, then there hasn't been a musical adventure as excellent as The Artful Escape since Bill met Ted.
A cosmic rock voyage of self-discovery that doesn't folk about, The Artful Escape is a truly unique experience and a feast for the senses. Those looking for a challenge or who are deathly allergic to guitars will probably want to look elsewhere for their next game. But given what an unusual and aesthetically captivating experience it is — and the fact that it's right there on Game Pass — it couldn't be easier for me to recommend.
If an interactive story (or point and click adventure if you will?) that mixes in platforming and colour match game elements doesn't necessarily sound up your alley as a gaming experience, then I still implore you to do yourself a favour and still give The Artful Escape a chance to take you on its journey and soak up the experience that it is for it's visual and aural splendour.
Though it's a relatively short and easy game, The Artful Escape is also a charming, witty spectacle from start to finish in its six or so hours of playtime. I loved Francis' story and the far-away lands he visits on his quest to believe in himself and write his own future.
The Artful Escape provides a strong narrative adventure focused on self-discovery, identity, and expression that musicians, artists, and just about anyone can find something to relate to. While the experience stumbles a bit due to some dull platforming areas, the groovy universe Beethoven & Dinosaur have crafted is one that players should take the time to fully explore.
The Artful Escape is a short game – it's actually the perfect length for what it is, and doesn't need to be longer or shorter. It has the presence of mind to understand that its pitch perfect pacing, and the strength of the crescendo it achieves as the player nears its climax, would both be undermined if it ended up padding itself out (similarly, a shorter game wouldn't have the chance to properly flesh itself, its characters, settings, and conflict out enough for the resolution to land). But what it does mean is that there are those who might find it to be a hard sell. Now personally, I find the asking price to be fair, and the experience you get out of it to more than justify the cost – but that's ultimately a decision you need to make for yourself. It absolutely does help that the game will be on Game Pass at launch, so subscribers to that can check it out without any further cost.

However and whenever you get around to trying The Artful Escape out, I think you're going to find it to be an experience that is patently worth it. It looks and sounds gorgeous, has wonderfully resonant themes and characters, and is a joy to behold and engage with. This is a journey of self-discovery everyone should take.

Click to expand…
All in all, The Artful Escape is well worth the wait. An exciting, well-acted feast for the senses, it does not disappoint. There are a couple of technical issues that need to be sorted, but on the whole, games this imaginative and enthralling don't come along very often.
The Artful Escape makes you feel all warm and fuzzy inside. It reminds you just how powerful music can be, not only to yourself by to everyone around you. The gameplay is simple, but it works so well, always keeping you immersed in both the story and the exploration of so many stunning locales. Annapurna Interactive is without a doubt the leader in indie games, and this is another magnificent example of allowing a developer the creativity to do whatever they want in a productive and glorious way.
The Artful Escape is a brash, bold and beautiful musical journey with a simplistic gameplay hook and all the interdimensional jellyfish deities you can shake a quantum-powered space guitar at. It's the next-best way to spend an afternoon indoors to dropping acid.
The Artful Escape is a tender look at creativity and finding your voice coated in outlandish visuals, an electrifying soundtrack, and a ton of lasers.
This one's a no-brainer; The Artful Escape is on Xbox Game Pass and you absolutely, positively have no reason to miss it if you're a subscriber. If you're not and you enjoy warm fuzzies, either get on board or buy it outright as you won't be disappointed.