There is nothing I liked about it. Not one thing.
I will say it's better without the sound.
Doesn't lookt that great but I'm happy to play it on Xbox.
From "PS5 Exclusive" to "clearly a last gen game running on Next gen, also multiplat". Which insider is just hamfisting "PS5 EXCLUSIVE!" to everything? One of them said "Dragon's Dogma 2 will be PS5 exclusive" as well which I severely doubt.
I think he may have a problem with chaos, just a hunch. Not sure what this guy did to him though?
It's sad, but yeah, same feeling…
Lmao. This game does feel like it comes from that era which i appreciate. I don't like that player characters design though.
Don't care about this game. Square Enix can keep their FF crumbs imo lol
Chaos, chaos, chaos. Where is CHAOS!!!???
On Twitter together with Babylon's Fall.
Looked like the Quantum Theory version of DMC. Has this coop?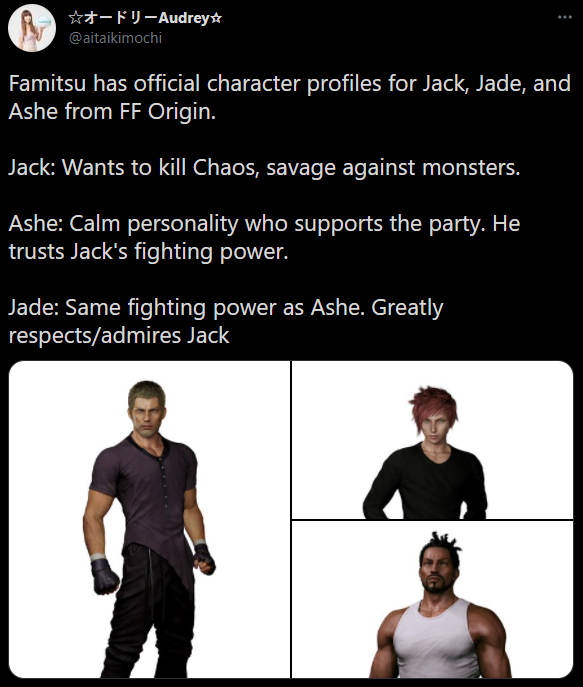 These look like default characters in a WWE Create-A-Wrestler mode




That can't be the real descriptions of the characters.
Those character profiles are just pure cringe, lol. It's like a wormhole opened to the late 90's and this game popped out.

somebody was paid for this?

I just really can't even with those stupid characters


They're like the cast of a random midbudget 360 game that got a 59/100 on metacritic or something… They look like they crawled out of a bargain bin 6th gen game



Looks quite bad IMO. PlayStation could have kept this one.

Gameplay will be excellent. People are overreacting to the character designs.