So as many folks may be aware - I bought a new house. I've spent the last three weeks on leave from my real job renovating it, and thought folks might be intrigued to see some of the changes thus far. The house hadn't been touched since it was built in 1976, and was last decorated in 1981.
There has been a lot of work, and DIY is not my strong suit, so I've been lucky to have a really good friend who is a master of ALL trades helping me with all the work.
Day 1:
And, this, this is my rough target render of what it'll eventually look like:
So Day2:
We take down the wall, and remove the old kitchen and demolish the old decorative fireplace as much as possible.
Then it was a case of replumbing and rewiring the entire house. No small task.
Bye old plumbing!
Bye fireplace!
Then we began replasterboarding the ground floor - and then plastering!
We also demolished the bathroom while the plasterers were in…
Took down the old internal wall (it was a bit rubbish!)
And built a new one!
And now we need to get the ceiling painted before the underfloor heating goes down next week!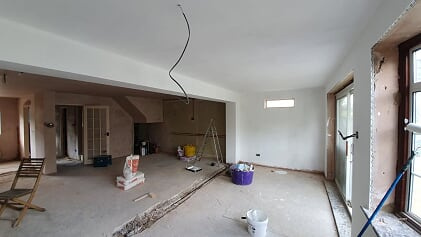 I'll update this thread as time goes on.