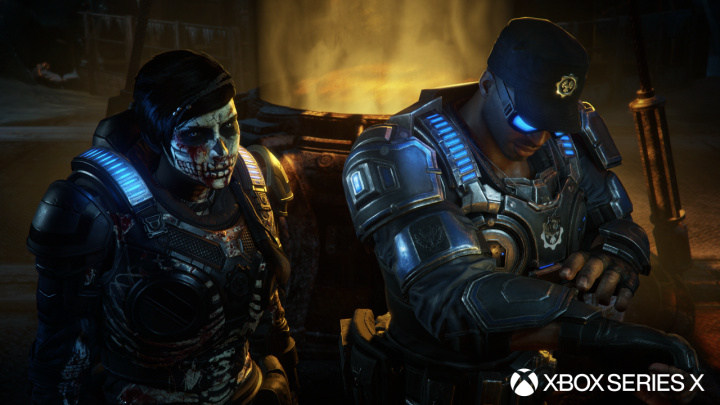 When Gears 5 makes its way to Xbox Series X and Series S on November 10, it'll get a big campaign and multiplayer content update to go with it.
The Coalition is taking its shot at Gears 5 story DLC in December, Gears developers told IGN, and it'll be available on the Xbox One, PC, and Xbox Series consoles

"All I can say is December and the title is Hivebusters, so it might give you a little hint as to what that content might contain," said Zoe Curnoe, Gears 5 principal lead producer. "That'll be available on the new consoles as well, so it'll be optimized for those two."
Gears 5 Campaign New Game+ Details
To put it simply, Gears 5's New Game+ is a more customizable experience coming to all versions of Gears 5 that won't need to be unlocked regardless of where you're playing. Here's a rundown of the new features you'll find for the campaign on November 10:

Two new difficulty modes (Ironman and Inconceivable)
Character Skins for Kait, Del, and JD
Weapon Skins
Jack upgrades carry over
Mutators (Big head mode, etc)
New achievements
Batista Joins the Campaign
Batista, Dave Bautista's WWE persona, made his first appearance in Gears 5 multiplayer. After plenty of support and enthusiasm from Bautista and the community, Batista is getting his Gears 5 campaign debut as an optional skin for Marcus Phoenix complete with a new voice over.
Operation 5 Brings Versus Changes
Gears 5's multiplayer has had a number of large updates called Operations since launch, and Operation 5 features a change that came directly from player feedback.
Xbox Series X Visual Upgrades
Another spot Rayner said players will notice a difference is in Gears 5's cinematics. They'll now run at 60 frames per second rather than 30 frames per second as they did originally. Rayner said this is just one of the many other visual upgrades they've been able to make on the hardware for a more seamless performance and a generally higher level of detail.
Check the full interview for more details given by the developers about the next-gen version of Gears 5!