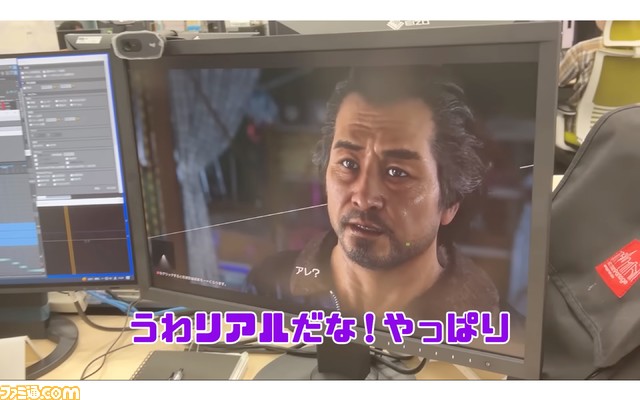 Refresh my memory but I thought they were done with Yakuza series and by that I mean Kazuma's story.
I wonder if it's gonna take place in a new city.
Combat wise it will be turn based as they said, so it remains to be seen if this is going to be for me. I have not tried LAD yet.
Day one, but I think this time i am going to buy deluxe because lost judgement still never had any sale for its DLC
Yesss, been waiting for a look at this game. Really hoping we get an official reveal soon.
Yeah, Kiryu's story finished with 6. From 7 onwards, they started Ichiban's story.
The article mentions there will be a new town in the game.
Yakuza 7 started a new saga
I'm keeping my guess at Yakuza thread: they will create their Roppongi version for Yakuza 8
That's great news! can't wait to see the new additions to the already fun AF combat system - turn based all the way baby!

Got it. Yeah, I didn't play it yet. But believe me, I really like the series. Just need time. Always welcome for more.
Wish I could say the same.
Man I really hope they don't abandon Judgment. Or maybe come up with something similar but with the real time fighting.
Love Ichiban as a character in like a dragon. I will 100% buy the next game he is starring in.
With the whole collection and LAD having come to Xbox I cannot see the next one not coming.
So excited! I thought it was a proper announcement but it's off screens. Still though it's a nice surprise today. Surprised we are getting a new town, although we will still have Isezaki Ijincho as well I guess. Ichi looks good with his hair tied uo but I hope we still see him in the afro.
I still need to finish Yakuza 6. Currently on chapter 9, but don't really wanna turn my Xbox on because of the heatwave here the past few days.
I wouldn't worry it most likely will. I guess it will also be cross gen too since it's probably coming out this year.
Give LAD a go, who knows maybe this will be the game that will make you warm up to turn based combat in general. I love action games but I vastly prefer turn based combat in JRPGs, the strategic and more relaxed nature of turn based suits well with the genre IMO.
Played Lost Judgment this year and loved it so I too hope that we'll get a new Judgment game soon.
first official announcement at TGS and drops in 2-3 months later?. yeah no chance in hell.
Please be action oriented combat and wish they would change the combat system to Sleeping Dogs like as that would be awesome. Of course, after playing 4 Yakuza games and the two Judgment games, im simply burned out on their combat system. And no, I don't want turn based as for me, that's even worse.
Sleeping Dogs combat was SO fun, probably still is.
But prepare yourself for TB for this one. The team has said from here on out it's turnbased combat for Yakuza.
Definitely will do. After all, I ended up buying Mario vs Rabbids last week and I usually do not like those kind of games at all.
As for Judgment, there are problems with the franchise, or something that could mean the studio doesn't want to associate with it any more. Man I can't remember what it was, but it was a bad situation.
Can't wait. Like a Dragon is a delightful JRPG and the only Yakuza game I've ever enjoyed (sorry brawler fans). Is there any reference in the article to what kind of title they're going for? Like a Dragon 2 or totally different subtitle, I wonder? As long as they keep the constant Dragon Quest references coming…
This one is confirmed turn-based. Like a Dragon was quite successful and the gameplay was received well, so they're sticking with it. Also personally, I find Yakuza/Judgment's combat to be better and deeper than Sleeping Dogs' combat, but that's just me.
The issue was supposedly that Takuya Kimura's (who plays the protagonist, Yagami) talent agency didn't want the games going on PC, as they were worried mods would damage his image. The agency tends to be very hard to work with in general. PC is an important market for SEGA so they'd rather start a new series rather than continue with Judgment without any PC releases. This was never confirmed but I guess it does sound plausible.
Right now we don't know. It'll definitely be "Yakuza 8" in Japan but we have no idea what they'll call it in the west. If I had to guess, it would be a new subtitle.