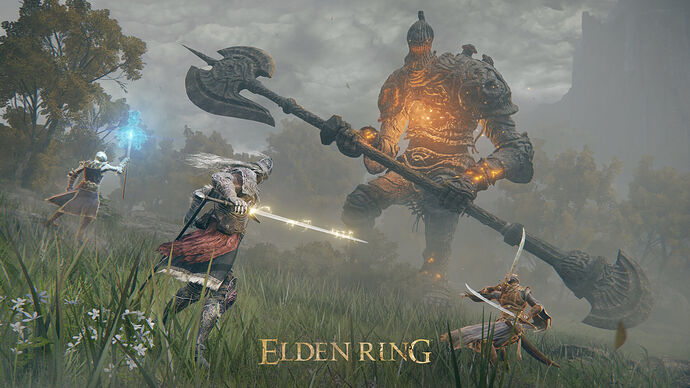 I thought I'd make this thread for those that also played the first session today. I played for three hours today. I'm not the best when it comes to explaining things but I'll do my best and I'll try not to make a wall of text. I'd like to hear your impressions too.
If there was any doubt, it's 100% Dark Souls in a open world. Would have made all the sense in the world to call this Dark Souls 4. When it comes to combat in general, the way your character moves, the animations, the atmosphere, the level structure when it comes to dungeons and such…it's DS in every single way.

Also the reusing of some attacks from the Souls games such as the backstab.

Being able to jump is nice!

Bonfires are called Sites of Grace and I'm happy that they offer you plenty of these, it being open world and enemies respawning after death it would have been annoying if these were spread out too much.

I noticed I received potions quite often after killing enemies, at first I thought it was with every slain enemy but it seems it's about killing a group and then you get a potion again, unless you're still at max.

You can pick up stuff in the world and craft things, but you need to buy a crafting kit from a merchant first. Also at this merchant there's a option to ask him what he recommends you to buy, in this case it was the crafting kit.

Runes are souls, if you die you lose them and you need to retrieve them, if you die before doing so they're gone, just like Souls.

It's faster than Souls, which is a good thing, but I really would have liked to have the dodge from Bloodborne or Sekiro, but it's still the roll.
I've tried the warrior and enhanced knight I believe he's called. Boss fights are hard as ever, I could not kill that dude you also see in the trailer, me still sucking at evading attacks, rolling through attacks at the right time doesn't help either. I tried to summon people or AI but I kept getting unable to summon ally .
It was nice though, but now after having played it I don't know if I'm just over (hopefully temporarily) Souls games a little or if it's something else because right now for me I'm not sure it's a day one buy for me.
In the next session I'll go try out the mage.