Don't take the emojis seriously sorry

I pay the full price, its worth the price so many times over for what it saves me that I'm not going to try and skimp more

Nope & I probably never would. It's too much money to spend, when measured against the amount of time I actually get to play these days (& the fact that when I do get the time, I don't just play on Xbox).
If money simply wasn't an option, then I'd happily pay full price but until my lottery win comes in…
I did the Gold conversion, the rest is mostly from MS Reward points.
I opt in when there are deals.
I don't think I mind paying the regular price, but something feels wrong when you are paying the monthly fee and not playing Game Pass games. Like ones your bought outright or free games. I suppose that is part of the hook, you pay a subscription and then you feel obligated to make use of it otherwise it feels like a waste.
I do have rewards points to use but I'm going to empty those out on a SeriesX first.
I pay full price. The service is just too good and it saves me so much money that I can use for things outside of gaming
Yes, because I think it's worth it. For PC, I mostly play small games that I can download better with my horrible ISP. My sister however has fiber, so she uses it for the bigger games. That said, I do also play the Yakuza game series on it. All and all it's worth it for me, and that's Game pass ultimate.
Really happy with the service and it suits my gaming needs more than my time allows. I would however like more Arcade like games,and SEGA being added would make me jump with joy. All those OLD Arcade games… rawr!
Yep, it's more than worth it to me, even at full price I feel like I'm getting an incredible steal. Us full price folks are the ones who will sustain and grow the service.
I did for a bit but then it went on sale at EB Games and Walmart last year around the Summer Games Show, and I realized this is what I want to stick with, I prebought through to 2023. Will reup for another year soon
I do because there's not such thing as "convert xbox live gold to game pass ultimate" on PC, so I just signed up to standard subcription.
I play full GPU and don't even play games. But I like the feeling that I have GPU so there is that

Because if I turn console on, I will know that I have the games there.
I am stacked until 2023, but if the 1:1 conversion is still there by then, then I will still do that. however if its not I am okay with payin standard price
It's just awful in europe. I've got like €20 over 6 months.
I paid $10 back in December 2018 to play Mutant Year Zero: Road to Eden day one. Then in June 2019, took advantage of that $1 upgrade to Ultimate deal. Bought a year of Gold for $60 and used that deal to have Game Pass Ultimate from June 2019 to September 2020. However, after I completed Gears 5 when it released in September 2019, I traded in the Xbox One X so it was kind of a waste. I could have just done what I did with Mutant Year Zero. Oh well. What's done is done.
Currently, I have Game Pass Ultimate through April 30th. When I ordered the Xbox Series X bundle from GameStop back in late December, it included a redeem code for three months of Ultimate. When I redeemed it, it gave me an extra month free just for keeping "recurring billing" on. I was like, okay cool.
So that's where im at now. My plan is to play and complete Outriders before April 30th and then cancel Game Pass Ultimate. Will then subscribe to Game Pass itself (no Ultimate) once The Ascent releases and/or in June if Godfall is day one. Other than that, I would only stay subscribed if I can somehow get at least 50% off. If not, I will just subscribe for a month when a game (exclusive or not) releases that I want to play day one.
Basically, each game that ends up being day one that I want to play will be a $10 monthly rental and that's pretty much it.
If you're still active on GPU, redeeming 12 months of EA Play will extend GPU for 4 months. In US $ thats anywhere from $24 discounted to $30 full price.
I see a $22.35 price on Eneba or $25.60 on CDKeys
Wow. That actually works in the U.S.? If so, I may actually do that. That would allow me to have Ultimate on a yearly basis for $90 instead of the regular $180 price.
From the FAQ: Xbox Support
Just be sure to redeem it for XBox and not PC.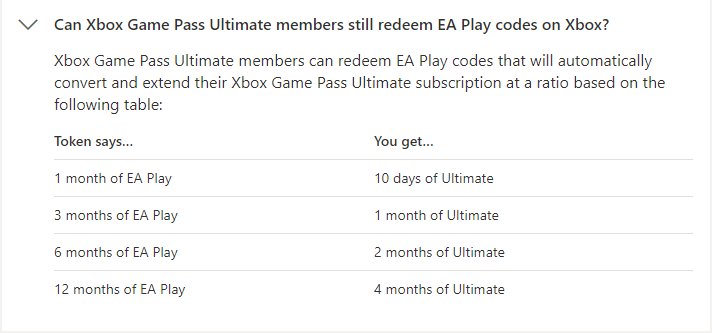 Does this stack? If I buy two 12 month codes, will they give me 8 months? Thanks.
I think it will, as long as the time doesn't extend it beyond 3 years from now. You're only redeeming 1 code at a time.
I'll try to find some Reddit posts about it to validate that.
Okay, thanks. I will do it twice so it lasts the rest of the year since im basically saving $60 on Outriders. lol. hehehe