It's been so long since Xbox fans asking for a proper show that's cover all sort of Xbox news, similar to Nintendo Direct/ State of Play shows from Nintendo and Playstation. Hopefully Xbox will have it's own show sooner or later, otherwise thousands of developers work from both XGS & Betheasda will stay in the shade. In this thread I'm going to share my vision about the best formula for Xbox Show, and I'm going to name it in this thread as "Xbox Show" so please don't bother with it, and LET'S Start!
1st, We can't put Xbox in the same boat with Playstation or Nintendo when it comes to a news show. Most of Xbox content is about GaaS, it's projects stay for years before gets new sequels and it's the opposite with Nin/ PS content which is mainly about sequels and less GaaS. Thanks to our friend @Klobrille I used his work "and modded it" to give an approximate idea about Xbox content since the last years.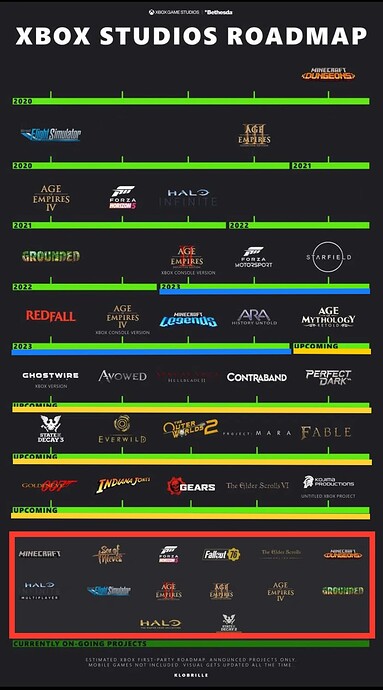 As we can see above, we are in the Blue line. Before that, Xbox released 7 GaaS games which are ( Grounded, Halo Infinite, Forza H5, AOE4, AOE3, Flight Simulator, Minecraft Dungeons ) and before 2020 other 7 GaaS games ( Minecraft, Sea of Thieves, Fallout 76, TES online, AOE2, Halo MCC, State of Decay 2 ) total 14 game you can see them in the red box at the bottom. All these games are getting new content/ patches till this year and if we remember well, those games were made an appearance nearly at all Xbox showcases in the last years.
It save to add most of the blue line games to the 14 GaaS and can't expect how much the number well reach by adding the Orange line games especially if ABK games jumped in later this year. So now after we got this quick look at Xbox content it's hard to ask for a Nintendo Direct level show or SOP from Playstation. That's why the show needs some different formulas to satisfy all fans and here what I think it's the best vision for Xbox Show.
In my opinion, the show must divided into several types of episodes like this example:
Xbox "Indie" show

Xbox "Live" show

Xbox "Grand" show
1- Xbox "Indie" Show: covers all ID@Xbox games and indie developers similar to Nintendo Direct "indie World" episode.
2- Xbox "Live" Show: covers all GaaS content from both 1st/ 3rd party. We've already explained how much HUGE amount of GaaS content Xbox has.
3- Xbox "Grand" Show: covers the new games, sequels, from both 1st/ 3rd party. This episode shouldn't air too many, two episodes per year are more than enough but the level should match Nintendo Direct or SoP biggest episodes.
Note: Deep-dive episodes can be titled: Xbox Show + name of the game as a subtitle.
Note#2: Annual events (E3, GC, TGS, Comic-Con, TGA … etc) stay the same.
I don't know what's Xbox marketing team has in store for the future or whether they are gonna have gaming shows or not? but I'm happy that I shared my vision about what I'm thinking is the best way in terms Xbox planned to make Gaming Shows. Thanks for passing.