I give my thanks to the studio and publisher and absolutely Phil too.
Unfortunately I think launching on the same day as Xenoblade 3 just turned this game's title into "Will Digimon Survive?"
It's okay… I'll buy both… And be off work for forever.
I'm absolutely hyped to Digimon Survive. Hopefully will be huge
Since its coming out on other platforms…absolutely
Game looks way more interesting than Xenoblade 3.
I can't wait for this. Huge Digimon fan and the first Digimon game on Xbox since the 360 days.
Really hoping this isn't exclsuive…
Ugh…is this going to have a physical for xbox outside japan??
I have my doubts, but would love to be wrong for those that want physical. I'm hoping Guilmon is at least available to digital pre-orders or as like a $1 DLC at the worst. He's one of my favorites.

So uh, what kind of game is this? RPG?
Looks like a tactical RPG with visual novel-ish bits…… iirc.
Primarily a visual novel, but with strategy gameplay at parts, is what I believe they said.
Thanks a bunch, gang. Guess I was feeling lazy today

They doesn't launch xbox version (physical, digital both) in Japan. In Korea, They launch only xbox version as digital version. PS4 or Switch have physical copy.
I know which is why I said I hope we get physical.
Pleasantly surprised this wasn't canceled for Xbox. Will get this for sure.
Phil Spencer making sure that Japanese game fans are eating good.
You cant ignore xbox this gen. Not with the lack lf next gen hardware and gamepass potential
Im kind of hoping they would have launched Cyberslueth on gamepass just to market digimon more. You could easily port the pc version at very little cost.
The gameplay trailer is only a minute and a half long, giving a brief overview of the game. There will also be a physical release for Xbox.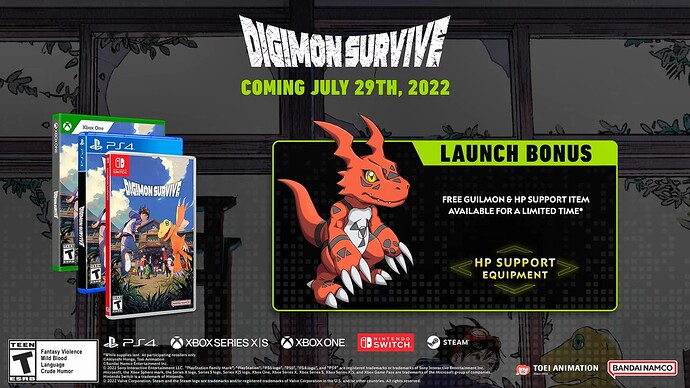 Gematsu: Key Features
A Rich Visual Novel Experience – Unfold a dark tale about friendship and survival that is jam-packed with exciting drama, a unique cast of characters, and potentially grim choices.

A Mysterious World – Explore otherworldly areas filled with hidden secrets and Digimon to recruit.

The Power is Yours – Your choices affect gameplay: you bond with other NPCs, your Digimon's evolution, and the outcome of your adventure.

Thrilling and Strategic Gameplay – Persuade your opponents to join your team and evolve them to fight alongside you in thrilling turn-based battles.