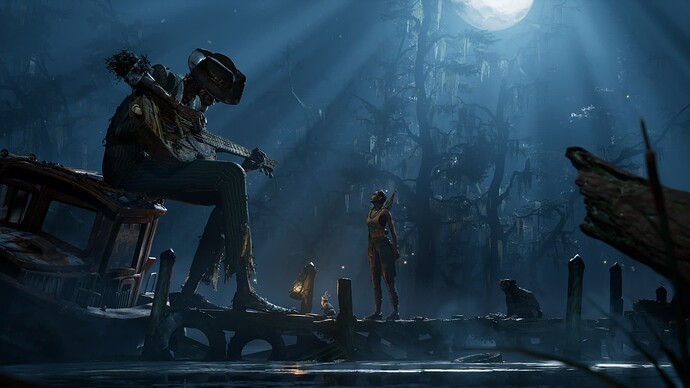 Was looking for more info for South of Midnight and found a pretty lengthy interview with the Creative Director and the Narrative Producer/Creative Specialist for the game, David Sears and James Lewis respectively. They go over things like how important music is for the game, the big character seen in the trailer named "Shakin' Bones" and the inspirations going into making him, as well as their experience working with Microsoft.
Looking forward to seeing more of this game. Im liking the vibe!
From the work of William Faulkner to "Night of the Hunter", the team is crafting a game world that aims to feel new to players, and an honest reflection of the real-life region through a Gothic lens. "South of Midnight's world is definitely a magically real place, much like the actual South," Sears continues. "The South is a sultry, sexy, mysterious place that has not been in a lot of games. Any amount of wandering in the country is going to lead you to speculate that there might be more than what you've been led to believe. I felt like the South was underrepresented, and it deserves an honest love letter – it deserves its time in the spotlight."

Hazel is set off on a quest to repair a broken world, most particularly by taking on mythical creatures – all based on real-life folklore from the region the game takes its inspirations from. And it's going to get weird.

"The game is loosely inspired by me tramping around forgotten farms and abandoned places in the in Mississippi," explains Sears. "I found artefacts from the Civil War, through the Depression, and more modern weirdness. Like a tree with doll heads nailed all over it. Why was that there in the middle of nowhere? Someone went to a lot of trouble to cart all these doll heads out into the middle of the woods, and then nail them to this tree. That's the kind of stuff that you can expect from our world in South of Midnight. It's based on the real world – but sometimes I think the real world is actually weirder than we'd like to think."

All of this combines to make for a setting and tone that games haven't represented all too often – and it's seen through the eyes of a similarly singular character.