It's a shame the LG CX can't run both Vision and Freesync at once
It really is. I feel like every time I'm about to bite the bullet on a new set, I find one or two limitations that keep me waiting for next year's model. I may have to just put up with a couple limitations though as many smaller set is about to go out. Still torn between OLED and QLED mainly because the price delta is still large and with so many things I watch/play that have static HUDs I worry about burn-in.
I've had my CX for a few months now and I honestly can say burn-in isn't really a concern anymore. When I initially bought it I was super conscious to always turn the set off whenever I wasn't using it but now there's times I'll fall asleep with the TV on and the tech inside causes the TV to dim so low that static huds wont really take effect. Definitely when spending 1600+ dollars you wanna be 100% certain lol but the tech has advanced enough where I don't think you'll have to worry too much
Thanks someone made the thread. Information was out there since yesterday but I was too lazy to make it myself.
For those wondering what the difference between Dolby Vision and HDR10 or HDR10+ is: Dolby vision allows you to provide HDR meta data for each frame. Means the HDR can be adjusted and optimized to any scene whereas with HDR10 you have set the meta data once and then never can change it and with HDR10+ you set the HDR meta data once and can define offsets for each frame. Those offsets though may still not optimal for certain lighting situations (very dark or very bright areas). With Dolby Vision you have full control on that.
That all said the caveat of course is that takes for effort to implement Dolby Vision in games and make it right. But if, you are in for a treat.
the demo of Cyberpunk was ridiculous. I'm not touching it until Dolby Vision update at this point lol
DV is often said to be better than HDR10, I haven't yet watched enough movies on my C9 to judge that, but is it generally said the same about DV in gaming?
DV will be new to gaming.
P c games have it. I recall Mass Effect Andromeda .

At least one next gen thing my TV can do haha
Wuuuut.
Main reason I wanted to upgrade from my B7 was to get VRR, but now that Dolby Vision is coming for games that definitely has a preference.
I honestly did not know that. Simple reason for that is that there were/are not many monitors out there that supported that.
Thanks for pointing that out! You saved me some homework!!
My wife wants a larger set in our entertainment room. I think it's an excuse to steal the OLED C8 for the (HER!) bedroom. Definitely waiting for OLED set with DV and Freesync, now.
Now I can back up my decision when I say: no.
Apparently Dolby Vision and Dolby Atmos will be exclusive to Xbox for 2 years.
Update from the community thread posted by @PCPrincipal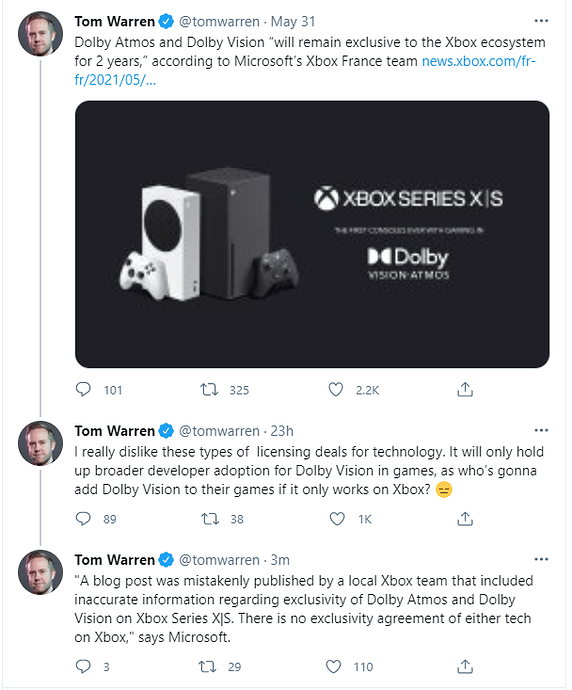 Glad that's been cleared up - seemed ridiculous from the get go.
Was waiting to hear they grabbed exclusivity for VRR and 1440P resolution too! Lol
They have, but only by dint of the fact that Sony won't implement support for them