I think its within Infinite. MS will turn the game into a platform
They already said they are
Hope not, I'm looking forward to it
No doubt. This has a chance to be Microsoft's Fortnite more than their God of War from a business perspective. I think what you mentioned later with the "Build-a-Halo" is extremely interesting and the wild card in all of this. If there's an unlimited shelf life due to an extensive creative community, Halo has the potential to combine what drives both Fortnite and Minecraft from an engagement perspective with Halo nostalgia and gameplay. If they pull that off, the potential for Halo could be unprecedented for a ecosystem exclusive.
Schrier said that he was not sure if one was in development, but that if it was, it's not at EA. The reporting on his tweet made it seem like he was confirming its existence but he never did to my knowledge.

You guys are fucking hilarious (in the best way), another cool thing to point out… can you imagine if Disney and Microsoft/Xbox get close, all the IP they could tap into for more E rated games. Phil said they need to focus a bit more on E rated family games and Disney is the idol of E rated content. Can you just imagine a bunch of E rated Disney IP launching day 1 into Game Pass. Xbox would get the parent crowd massively, especially with the Series S. xCloud could even come into it, kids will be able to play something like Frozen on their iPads in the car, get home then continue it on their Series S.
Would be some big play moves right there.
My niece plays Rush: A Disney–Pixar Adventure all the time. I hope to see more similar games in Game Pass.
All this talk about KOTOR and I'm like…bring over Star Wars: The Old Republic.
runs away
Lol seriously though, I'd gladly take either.
The Old Republic is a pretty good MMO in my book. it would be amazing to see it coming to consoles.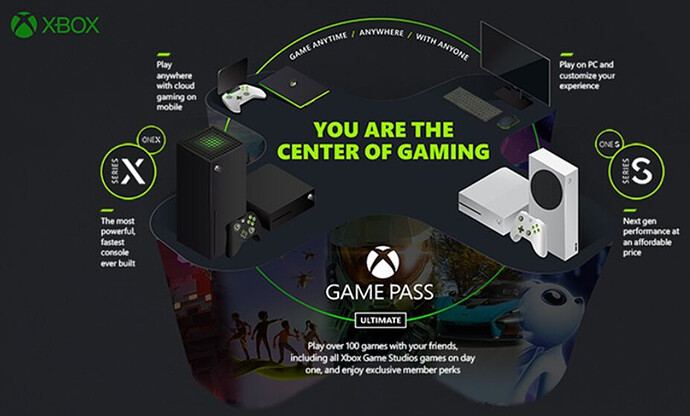 I know this pic isn't new but I can't remember it being Phil's twitter hearder.
YOU ARE THE CENTER OF GAMING
Xbox One X | Xbox Series X | Xbox One S | Xbox Series S | Game Pass | PC | Cloud

Well a new IP is basically confirmed like I thought. (@Klobrille liked that tweet)
And UE4 so I might be closer than we think
Fantasy. Hmmm…
Are Vampires Fantasy?
There goes Prey 2, damn. But a new IP? Can't hate on that.
True after I fall in love with Dishonored I see myself to love every god dam thing they produce. Arkane might become my favourite studio under the xbox umbrella.
New fantasy IP with Unreal Engine 4? Now I'm interested. I think it'll be a 2022 release.
With Avowed, Fable, inXile, Arkane Fantasy, Elder Scrolls all being huge fantasy AAA RPGs…
People might finally say that all "Xbox games are the same" in the way that "all PlayStation games are the same".
I would die for a new Arx Fatalis. Such a good game.
Arkane Austin project look interesting
I hope it's a spiritual successor of Dark Mesiah