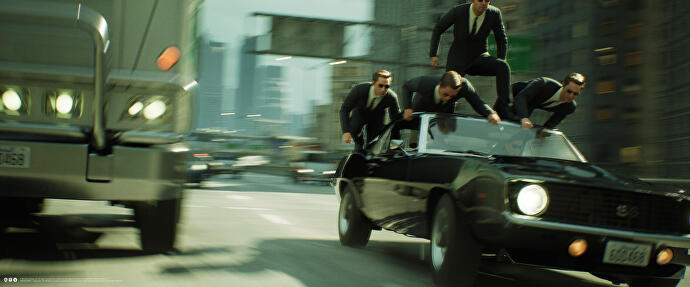 So apparently it's not just a 3D visualiser, but more like a blend between movies, 3D environments, animation and a bit of gameplay ? All done in UE5 ? It sounds crazy, yeah.
I'm still downloading at the moment, but from what I've seen from videos online, it feels like an experience you don't want to miss if you're a fan of The Matrix, Keanu Reeves or just want to get a taste of UE5.
From the article :
The city is 4,138 km wide and 4.968 km long, slightly larger than the size of downtown Los Angeles
The city surface is 15.79 km2
The city perimeter is 14.519 km long
There are 260 km of roads in the city
There are 512 km of sidewalk in the city
There are 1,248 intersections in the city
There are 45,073 parked cars, of which 38,146 are drivable and destructible
There are 17,000 simulated traffic vehicles on the road that are destructible
7,000 buildings
27,848 lamp posts on the street side only
12,422 sewer holes
Almost 10 million unique and duplicated assets were created to make the city
The entire world is lit by only the sun, sky and emissive materials on meshes. No light sources were placed for the tens of thousands of street lights and headlights. In night mode, nearly all lighting comes from the millions of emissive building windows
35,000 simulated MetaHuman pedestrians
Average polygon count? 7000k buildings made of 1000s of assets and each asset could be up to millions of polygons so we have several billions of polygons to make up just the buildings of the city
These details are insane !
What's the purpose of this ? Marketing ?
If you can play it yourself, don't watch :