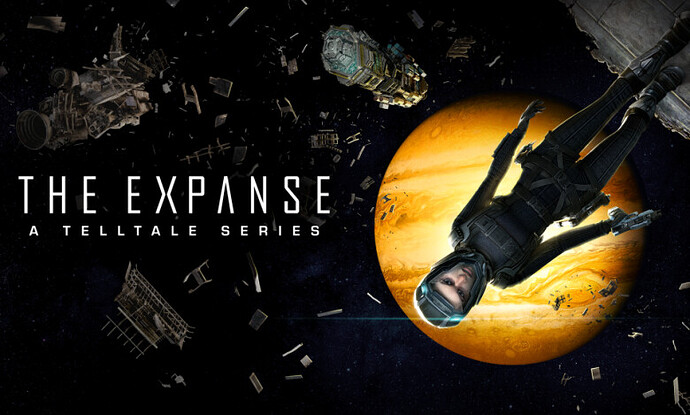 Originally published at: The Expanse: A Telltale Series Comes to Xbox Consoles July 27 - XboxEra

Developer Telltale Games has announced The Expanse: A Telltale Series, an episodic game based on the critically acclaimed and award-winning TV series of the same name. Players take on the role of Camina Drummer (Cara Gee), the XO of a scavenger crew searching for a mysterious treasure on the edge of The Belt. You'll be dealing with powerful personalities, an attempted mutiny, and make tough decisions that will decide the fate of your crew: The Artemis Crew.
Have a gander at the blog post below. The game's first episode launches on Xbox consoles on the 27th of July, with following episodes coming two weeks after each drop for a total of four.
---
The Expanse: A Telltale Series launches July 27th, 2023!

Oye, beltalowdas! 

It's official, The Expanse: A Telltale Series Episode One launches July 27th for PlayStation 5, PlayStation 4, Xbox Series X|S, Xbox One and PC via Epic Games Store!

Here's the best part, beratnas and sésatas: The following four episodes release every two weeks after the first one drops on July 27th. Experience episodic content like some of your favorite shows!

While you soak in that news, let's take a minute to check out this stunning cover art.

Pre-orders for both the Standard ($39.99) and Deluxe Editions ($44.99) will go live on June 1, 2023. Those of you who pre-order will receive 24-hour early access*, while players who purchase the Deluxe edition will also receive future DLC.

"Wait, there's going to be DLC?!" 

You heard right. You'll just have to wait just a little longer for more details there.

Before closing this out, there's one more thing we need to say to you all: 

Thank you. We wouldn't be here without you. We wouldn't be able to keep telling these amazing stories without your support. As a new studio rebuilding, your faith and giving us the chance to make more games means the world to us.  Be sure to follow us over on Twitter, Facebook or Instagram for more updates and sneak peeks as we rocket towards July 27th! 

Not familiar with The Expanse? That's fine! This game is set prior to the events of critically acclaimed and award-winning television series. Players take on the role of Camina Drummer (played by actress Cara Gee in both the game and TV series), the XO of a scavenger crew on the hunt for a mysterious treasure on the edges of The Belt. 

As Drummer, you must deal with a mix of powerful personalities, square off against a bloody mutiny, explore locations beyond The Belt, and make tough decisions that will decide the fate of The Artemis crew. Scour shipwrecks, use mag boots to walk on walls and ceilings, and utilize Zero-G thrusters to float through sections of ships and the open expanse of space in the largest and most immersive exploration of any Telltale game to date.

You can find out more about The Expanse: A Telltale Series over at https://www.telltale.com/the-expanse/

* Only available on PlayStation and Epic Games Store

The Expanse: A Telltale Series Blog Post