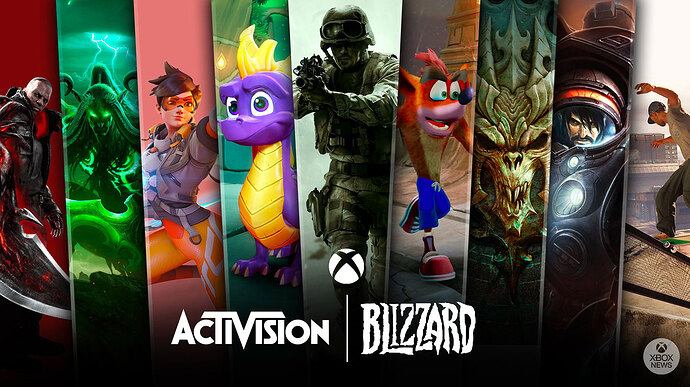 I tried to make a list of what we could potentially expect on Game Pass console (when the deal closes) regarding the Activision library (did Activision-Blizzard ever supported Game Pass ? I don't think they ever added a single game on the service).
MS said they would "offer as many Activision Blizzard games as we can" on Game Pass.
COD Classic (not BC)

COD Finest Hour (not BC)

COD 2

COD 2: Big Red One (not BC)

COD 3

COD World at War

COD WWII

COD Vanguard

COD Modern Warfare Remastered

COD Modern Warfare 2

COD Modern Warfare 2 Remastered (Campaign only)

COD Modern Warfare 3

COD Modern Warfare 2019

COD Modern Warfare 2022 (assuming the Sony marketing deal doesn't prevent this)

COD Black Ops

COD Black Ops 2

COD Black Ops 3

COD Black Ops 4

COD Black Ops: Cold War

COD Ghosts

COD Advanced Warfare

COD Infinite Warfare

COD Warzone

Tony Hawk's Pro Skater 1 + 2

Overwatch

Diablo II Resurrected

Diablo III

Crash Bandicoot 4: It's About Time

Crash Team Racing: Nitro-Fueled

Crash Bandicoot: N. Sane Trilogy

Crash Bandicoot: The Wrath of Cortex (not BC)

Crash Twinsanity (not BC)

Crash of the Titans (not BC)

Crash: Mind over Mutant (not BC)

Spyro: Reignited Trilogy

Spyro: A Hero's Tail (not BC)

The Legend of Spyro: A New Beginning (not BC)

The Legend of Spyro: Dawn of the Dragon (not BC)

Prototype

Prototype 2

Geometry Wars 3: Dimensions

Quake 4 (not BC)

Return to Castle Wolfenstein (not BC)

Wolfenstein 2009 (not BC)
Not sure who would decide when Activision is the publisher ? Like for Sekiro: Shadows Die Twice (I guess ABK still owns the publishing rights) ?
There is also a ton of Skylanders games but I'm not sure if it can be played without the figures that were sold with the games (never played it) and those aren't BC as of now:
Skylanders: Spyro's Adventure

Skylanders: Imaginators

Skylanders: SuperChargers

Skylanders: Trap Team

Skylanders: Swap Force

Skylanders Giants

Skylanders: Spyro's Adventure
Don't know what they will do with these old games. Those aren't BC as of now:
True Crime: Streets of LA

Blur

Singularity

Pitfall: The Lost Expedition

MTX Mototrax

Gun

Apache: Air Assault

Metal Arms: Glitch in the System

Scarface: The World Is Yours

Wreckless: The Yakuza Missions
Activision also developed (or only published) these games but in most cases there would probably be various licensing issues to solve, not sure they would bother, those games are old too:
The Simpsons: Hit & Run

GoldenEye 007 Reloaded

007: Quantum of Solace

James Bond 007: Blood Stone

Star Wars Jedi Knight: Jedi Academy

Kelly Slater's Pro Surfer

Marvel Ultimate Alliance

Marvel Ultimate Alliance 2

Deadpool

Spider-Man (2002)

Spider-Man 2 (2004)

Ultimate Spider-Man

Spider-Man: Web of Shadows

Spider-Man: Shattered Dimensions

The Amazing Spider-Man

The Amazing Spider-Man 2

X-Men Legends

X-Men Legends II: Rise of Apocalypse

X-Men Origins: Wolverine

Transformers: Devastation

Transformers: War for Cybertron

Transformers: Fall of Cybertron

Hulk

The Incredible Hulk: Ultimate Destruction

The Thing

Robert Ludlum's The Bourne Conspiracy
Also a lot of old Tony Hawk's games but they will probably be satisfied enough with Tony Hawk's Pro Skater 1 + 2.
Anyway I hope they will make the remaining COD games backward-compatible, add some FPS boosts and remaster/remake Modern Warfare 3 and World at War during this gen. Having the entire COD saga at the same place on Game Pass in full glory would be so exciting and definitely huge. By the end of the gen, they could have like almost 30 Call of Duty games on the service.
At some point, MS will need to do something similar to Disney + or the concept from Klobrille with an entire section dedicated to Call of Duty lol