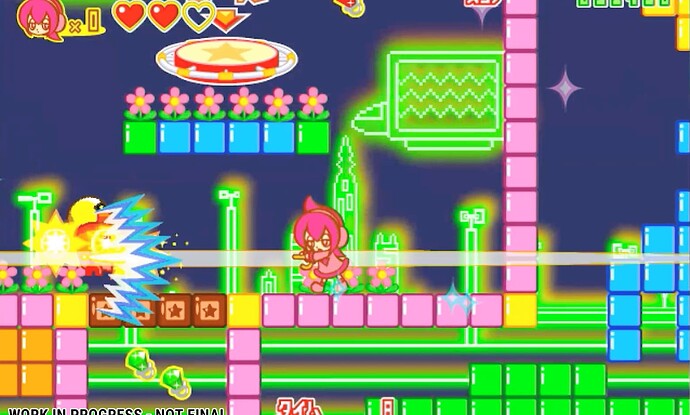 Originally published at: TAITO-classic 'Spica Adventure' Comes to Xbox Consoles in Spring 2024 - XboxEra

Publishers TAITO and ININ have announced that they will be bringing 'Spica Adventure' worldwide and to Xbox consoles in Spring 2024. Previously a Japan and arcade-exclusive title, players from across the globe will be able to play this charming 2D sidescroller with a full-fat leaderboard system to challenge players scores from across the globe. Play as Nico, the cutesy little herione, as she destroys robots with her parasol. You'll need to move quickly however, as standing around too long will fill your screen with robots and certain doom. After completing a level, you'll also get to choose what path to take for different rewards and challenges.
Have a gander at the trailer, gallery, and press release below for more information on Spica Adventure. Look for its release next year on Xbox consoles.
---
Leap and Soar with Spica Adventure! ☂

The Parasol-Powered Journey Is Coming to Consoles in 2024 Boxed editions are ready for pre-order on November 14th

Berlin, Germany – August 10, 2023 – ININ is excited to announce that they are teaming up with TAITO to release the 2005 2D platformer Spica Adventure on consoles. ININ have made it possible for the game, previously a Japan-only, arcade-exclusive, to be available to players everywhere for the first time ever! In Spica Adventure, players will use their wits and quick reflexes to guide the heroine, Nico, through challenging stages filled with abstract and cartoony dangers. The game will be available on all modern platforms digitally – Xbox, Nintendo Switch, PS4, and PS5. Spica Adventure is scheduled to release in Spring 2024, with boxed editions available (for Nintendo Switch, PS4 & PS5) for pre-order on November 14, 2023.

To navigate the game's challenges, players will rely on Nico's trusty umbrella, reminiscent of the iconic yellow parasols from the beloved game Parasol Stars: The Story of Bubble Bobble III. Serving as a spiritual successor, Spica Adventure brings back the importance of the yellow umbrella as a vital device for the player. This versatile tool becomes a true lifesaver in tricky situations, allowing you to charge at enemies, float gracefully through the air, spring off walls with agility, and even reflect incoming bullets. Mastering the parasol's various functions is essential to progress through the game, just as it was in the memorable adventures of Parasol Stars. In Spica Adventure, you'll race against time, as the stages are designed to be traversed as quickly as a screen-filling robot will start to pursue our heroine if she spends too long in any one stage…

After completing a stage, players will have a couple of choices for their next destination. Choose your next destination as the stages branch out, offering different challenges and rewards. Players must select their path wisely to lead the heroine to victory.

Features:

● Nostalgic 2D side-scrolling action with authentic TAITO arcade gameplay

● The triumphant return of the Parasol Stars umbrella: versatile weapon, shield, and movement tool

● Unique and charming retro pop art arcade aesthetics

● Online leaderboards for competing with other players worldwide

● Varied difficulty stages and mirrored levels for extended playtime and replayability

● Unique music composed by TAITO's music team, "Zuntata"

● International debut and first-ever release on consoles Get ready to beat toy robots in style in this cutesy but lethal TAITO release!

Spica Adventure Press Release