Originally published at: SMITE x VShojo Skins, Hope Reborn Event Begins - XboxEra

Developer Titan Forge Games and publisher Hi-Rez Studios has announced a collaboration with the Virtual YouTuber ("VTubers") VShojo, bringing a grand total of six new skins based on popular VTubers. These characters include:
Vei
Ironmouse
Nyanners
Silvervale
Kson
Apricot
A Twitch Drops event is also running from the 16th all the way to the 30th of May. By watching participating live channels, you can get the listed VTubers' announcer packs as well as a matching avatar.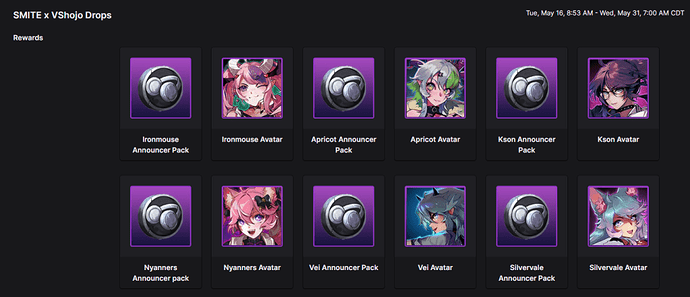 Alongside this update includes the final chapter to the Hope Reborn event, adding three new skins to the game with three more to follow. Goddess Artemis gets a new visual look and balance changes have been made. More information can be found on the official SMITE website.
You can swing on over here to purchase the deluxe pack that includes all six VShojo VTuber skins on the Xbox Store. SMITE is a free-to-play third person MOBA game featuring the likes of all your favourite Greek gods—and a lot of Nickelodeon collaborations! Available on all Xbox consoles.
Have a gander at the press release below for more information.
---
VShojo's Anime VTubers Fight GODS
in SMITE's Newest Crossover?!?!

Get ready for an epic adventure as VShojo's legendary VTubers make their way into the Battleground of the Gods! This WILD crossover will feature six new skins for some of your favorite VTubers:

MEDIA ALERT FOR IMMEDIATE RELEASE

VShojo's Anime VTubers Fight GODS

in SMITE's Newest Crossover?!?!

ATLANTA – MAY 16 – Get ready for an epic adventure as VShojo's legendary VTubers make their way into the Battleground of the Gods! This WILD crossover will feature six new skins for some of your favorite VTubers:

Vei
Ironmouse
Nyanners
Silvervale
Kson
Apricot

They've gathered for one final event and you're invited to be a part of it. Whether they're rocking with VShojo or pursuing an indie career, you won't want to miss out on the VShojo Event – only in SMITE!

These six anime-inspired skins are beautifully designed to capture the essence of each VTuber and truly bring their virtual personas to life. They all come complete with special visual effects plus a unique voice pack recorded by the VShojo talent. Along with cosmetics such as ward skins and global emotes (one even featuring the legendary Zentreya), the skins are available for purchase in the SMITE x VShojo Crossover Event. May the power of Gods and Anime be on your side!

"Being a fan of VShojo myself, I had the amazing opportunity to help give art and design direction on the SMITE x VShojo crossover," says SMITE QA Analyst Micaila Breashears. "That was a great experience and many departments at Titan Forge really came together to make this event special. A lot of research went into making the VShojo characters sound and look the best! Plus all of the girls were able to voice their own skins and announcer packs in-game, and were so great to work with every step of the way."

To celebrate the SMITE x VShojo event, a special Twitch Drop campaign is running for two weeks, from May 16th to May 30th. Tune in to your favorite VShojo streamers to score exclusive VShojo drops and show your support for these content creators! Drops are available on ALL the VShojo streamers' channels.

Check out all details at https://smitegame.com/news/earn-vshojo-drops.

Both the profile avatar & the in-match announcer pack can be unlocked this way for each VTubing star: Nyanners, Kson, Silvervale, Apricot, Ironmouse, and Vei. That's a total of 12 items given away for FREE just for watching! And yes – each announcer pack has been recorded by the corresponding VShojo talent herself. That means your Oishi can hype you up as you dominate the Battleground in style! Just imagine – you're running it down mid, securing kills with Kson cheering you on! Announcer packs can be used in any match, even when not playing as a VShojo character.

Then from May 31st to June 14th, all SMITE Partners and the VShojo talent channels will be giving away SMITE Viewer Points. And if you miss the chance to nab those FREE rewards, they'll become available in the SMITE Viewer Store!

With today's VShojo update, the third and last chapter in the Hope Reborn event has begun, introducing 3 new skins—and 3 more will follow on May 30th. Iconic SMITE goddess Artemis is also receiving a full visual update, giving her a gorgeous new look! Lots of balance changes have been implemented including mode-specific tweaks. For instance, in Duel only, after eliminating your opponent you can now pick up an Orb that empowers you against towers. Come check that out and more in SMITE! 

SMITE x VShojo Press Release