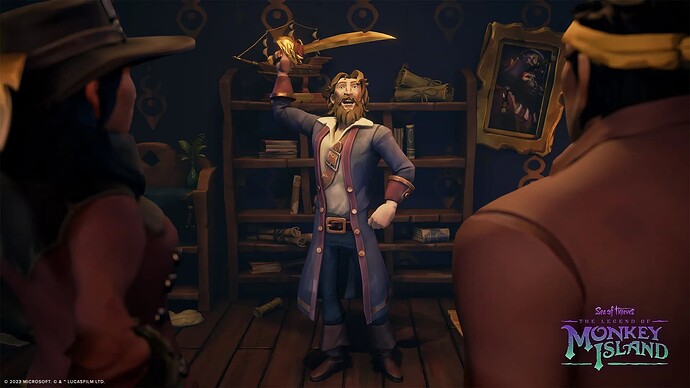 Originally published at: Sea of Thieves: The Legends of Monkey Island is a three-part addition which can be enjoyed solo without other people - XboxEra

Want to play Sea of Thieves, but don't want to bother with other people? Then Rare has good news for you. The new Sea of Thieves addition: The Legends of Monkey Island can be fully enjoyed solo.
In an interview with Xbox Wire, Rare has revealed this: "The Legend of Monkey Island will be released in monthly instalments, starting July 20, telling a brand-new tale featuring characters (and voice actors) from the Monkey Island series. Your adventures will have you meet Guybrush Threepwood, his beloved Elaine, the dreaded ghost captain LeChuck, Murray the Demonic Talking Skull and more iconic characters. You'll get to visit freely explorable versions of both Mêlée Island and Monkey Island, solving puzzles in a point-and-click style adapted for Sea of Thieves first-person view – and it'll all take place in the Sea of the Damned, so you'll have no interruptions from other players as you relive the iconic series in a brand-new way."
This means no interruptions from other players while you enjoy this new tale in the Sea of Thieves world.