Originally published at: Review | ACL Pro Cornhole - XboxEra

ID@Xbox kindly sends us various codes for that week's releases each Friday afternoon. When I saw ACL Pro Cornhole in the list I jumped for joy. What a weird and wonderful sport to get a video game. Cornhole is the classic game of taking a small sack filled with beads and tossing it through a hole in a piece of wood. Sounds like something that would translate well to a fun, online video game. Welp I have bad news.
Airmailed It
ACL Pro Cornhole is $30 and has two modes with zero online play. Feature-wise this might be one of the most barren releases I've seen at that price point, ever. There is a career mode, which best I can tell, allows you to select a player and then you are locked into using them until you win the tournament. That won't happen though, because the computer in this game is unbelievably accurate. I tried matches on Easy, Normal, and Hard and the accuracy of the computer never changed. They were dead shots on tossing their sacks into that hole every time they need to. I could set up a block, where I place my sack just at the rim of the whole. Inevitably they would neatly throw their sacks right over it and in the hole with ease.
This game has couch co-op, so if you and a group of buddies hate money and want to sack each other's holes you can do up to 4 players in a doubles competition. The true shame is the lack of online play, any extra arenas, or any gameplay outside of the simple act of tossing your sack. Every screenshot you see on this page is the entirety of the game. There are two modes. There is the aforementioned career and quickplay. Quickplay allows you to set up a basic match that plays exactly like a tournament between 2 or 4 people as well as practice your throws or play a singles match, and that's it.
Grind My Sack
You have a few options on your throw. The right bumper and trigger will change your trajectory and spin up while the left side lowers them. You can press A to swap between the sticky side of your meaty sack, and the slippery one. Once you have a firm grip on it you'll use the right stick to yank back and then toss your sack forward. It doesn't feel good, at all, and the game is maddeningly inconsistent in where your sack ends up on that rock-hard wood. There is a large number of real-world athletes to choose from, and they all play the exact same way. The only unlocks in the game are cosmetic, and from the first time you grab your sack and toss it until the thousandth, nothing changes.
Graphically the game is unattractive. Character models would be at home running in back-compat mode from the 360. The game is One X enhanced but not Series. As far as I can tell the player models are mostly "a little better than Elder Scrolls Oblivion" levels and there is only one arena. The game does run at a silky smooth sixty frames-per-second, at least. Sound-wise you get repetitive and inaccurate play-by-play. Being welcomed to "Cornhole Nation" was good for a cheap laugh early on.
Achievements come slowly as well, and when matched with the $30 price point this is one for achievement hunters to avoid at all costs. The computer is ridiculously good, and you need to play a ton of matches to unlock all the various sack colors like pink, blue, red, and gonorrhea. I didn't have any technical issues outside of female models not loading in their hair and full features during the incredibly awkward introduction before each match.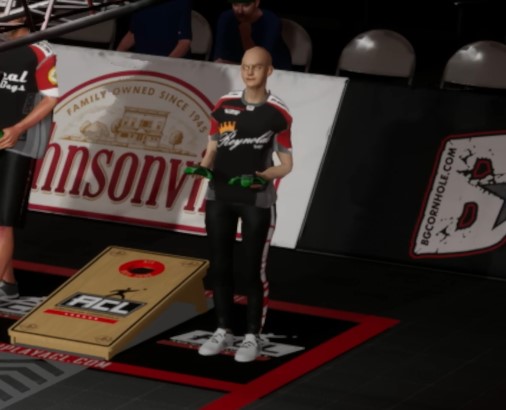 Wrapping Things Up
ACL Pro Cornhole is overpriced, and a miserable slog to play against the computer. The physics behind your shots never feels consistent, it looks terrible, and even in couch co-op, this is simply one I cannot recommend.