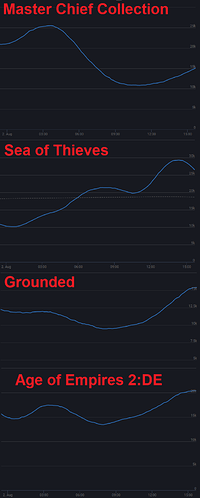 I just checked SteamDB. Was wondering if all MS IP's performed similar on Steam, both in absolute numbers and popularity per time of day.
The times in these images are European times, so it's clear Sea of Thieves is the most popular in the afternoon in Europe, which leads to believe it's the most 'eastern' IP for MS.
Halo is the most popular during Europes nighttime, which could point to the IP being more popular in America (which isn't a surprise).
Grounded and Age of Empires seem to be doing equally well in multiple regions.