I believe that Playstation is making a massive mistake by not investing heavily in PSNOW. Their current strategy which is to release their AAA games as a full 70 dollar release and occasionally put a couple of their games on PSNOW a few years later.
This strategy is half-hearted and is merely a compromise. There has always been a sense that if Sony were to fully invest in PSNOW that it would be a massive success. Imagine if PSNOW got signicant third party investment, day one first party support, and a significant churn of games coming into the service. They would gain millions upon millions of subscribers and could even overtake GamePass as the most successful subscription service.
As of now, Sony seem hesitant to actually put any games of quality into the service and are very far behind Gamepass which would be a potential competitor to PSNOW. They seem more focused on PSPLUS instead of Now, even hinting at more smaller games coming to PLUS day one.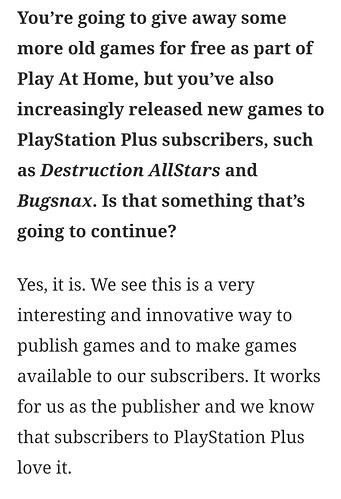 As someone who owns a PS5 and genuinely loves a lot of their games, it is completely baffling to me that Sony has yet to take advantage of a subscription service and invest in PSNOW.