If you're one of the folks still confused or skeptical about Xbox releasing games on Steam or if you aren't in these big Western countries, there's a simple and good reason why it's needed - Better Regional Pricing.
A few of the xbox games are on sale right now.
Here's Ori WOTW at 67% off on MS Store/Xbox App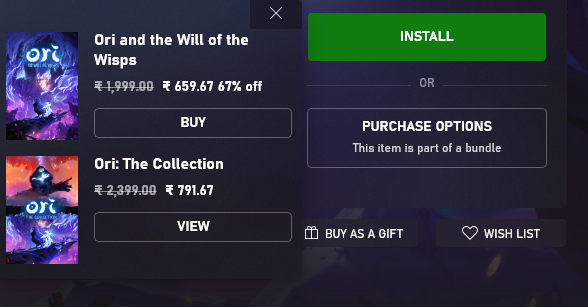 660 INR In USD: 9 Dollars. Before Discount: 27.5 USD
Here's Ori WOTW at the same 67% off on Steam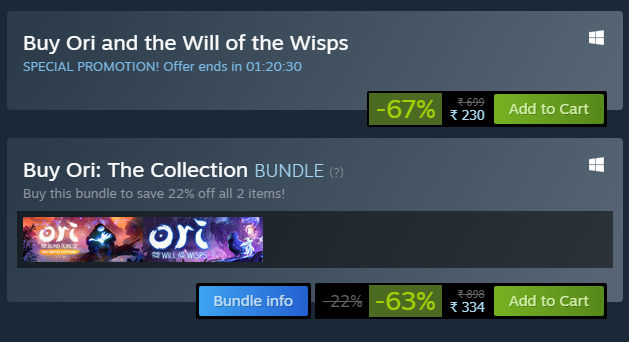 230 INR In USD: 3 Dollars. Before discount: 10 USD
That's a 300% difference.
MS store alongside being simply barebones and plain annoying as a store and user experience also has bad to no competitive regional pricing that Steam has had for ages now.
This means whenever there's a game on MS Store or Gamepass that I wanna buy or it's on a sale, as a PC guy, I'd rather do that on Steam.
I've been playing FH4 on Gamepass but I am glad that it's coming to steam so that I don't have to pay inordinately bad pricing on the MS Store for something I can get at a cheaper price on a superior store and user experience. Of course in this specific instance, there's no cross-save for FH4 on steam but I expect the majority of games that shall eventually launch day 1 on MS Store/Gamepass and Steam to have cross-save, cross-play cross-everything because they've been built to be on both stores ever since their launch. At least that's what I hope.
TL;DR, Much better regional pricing is one of the bigger reasons why we should want more Xbox games on Steam, alongside other reasons that are obvious.