Originally published at: Lucozade Energy Partners with Xbox/Bethesda, Custom Starfield Bottles with Chances to Win Xbox Prizes - XboxEra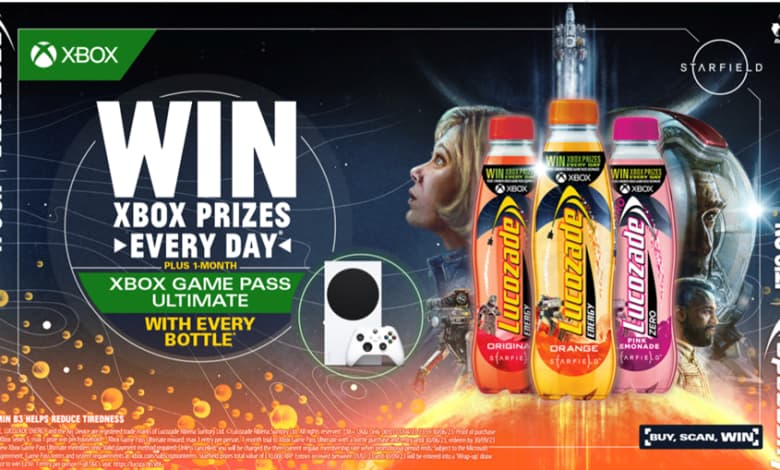 As you've likely seen around London by now, Lucozade Energy has partnered with Xbox and Bethesda Softworks, creating custom Starfield-branded bottles of their Original, Pink Lemonade, and Orange energy drinks. Buying one of these bottles gives folks a chance to win Starfield and Xbox prizes (such as the chance to win an Xbox Series S everyday) and also unlocks access to other rewards such as 1-month Xbox Game Pass Ultimate subscriptions.
Scanning a Starfield-branded bottle will also allow you to access augmented reality-powered scenes from the game, where you have the chance to win additional prizes such as a custom Lucozade Xbox Series S.
Have a gander at the press release below.
---
25-Apr-2023 — Lucozade Energy has teamed up with Xbox and Bethesda Softworks to bring players closer to the action and give them the chance to win Xbox prizes ever day.

To kick off the partnership, Lucozade Energy is celebrating the upcoming launch of Starfield, one of the biggest gaming releases of the year, with new custom Starfield designs of its Lucozade Energy range, including Original, Orange and Pink Lemonade Zero flavours. The reimagined bottles will give consumers the chance to win Starfield and Xbox prizes, whilst unlocking their gaming potential with Lucozade Energy. Purchasing Lucozade Energy also unlocks access to exciting Xbox rewards such as a 1-month Xbox Game Pass Ultimate subscription with every pack, as well as the chance to win an Xbox Series S every day.

Fans who scan a Lucozade Energy Starfield edition bottle, which feature iconic characters and scenes from the game, will be transported to an extended reality based experience, where they can discover Starfield content and take part in challenges to win additional exclusive Xbox prizes including a custom Lucozade Xbox Series S.

Zoe Trimble, Head of Lucozade Energy at Suntory Beverage and Food GB&I, commented: "Lucozade Energy's partnership with Xbox and Starfield will unlock significant rewards and access for the UK gaming community, whilst helping to unlock their gaming potential. We wanted to create a special partnership that enables us to connect with gamers via a shared passion, culture and vision for gaming."

Lucozade Energy Starfield edition bottles will be available from April at supermarkets and stores throughout the UK and Ireland, available while stocks last until 30th June 2023.

Lucozade Energy Press Release