Thought I'd share a picture of them both together: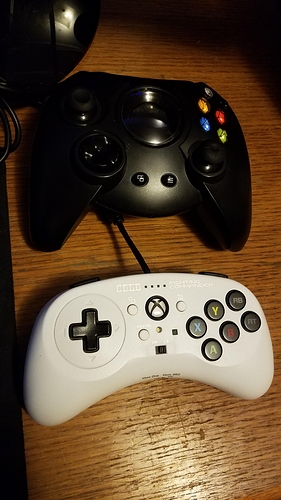 First and foremost - the d-pad on this Hori boy is VERY nice. Controller feels nice and beefy in my hands, and I've had the chance to take it for a test drive with a little Tekken 7 so far. Plays very smooth. Almost reminds me of like a SEGA Saturn controller.
I dig the customizable button layout, which definitely came in handy due to the super odd decision to have L3 and R3 in place of Lb/LT and Lb/LT where Rb/RT would normally be (Rb/RT are on the face buttons due to it being a fighting pad primarily). Nonetheless, with the easy to program workaround that is only a minor hiccup.
Funny, the XB1 standard pad is pretty much perfect, but I keep collecting little niche third party pads to play with as well. This will definitely be nice to have when Series X drops also. I'm deeply invested at this point. Works on 360 too!
Over and out.