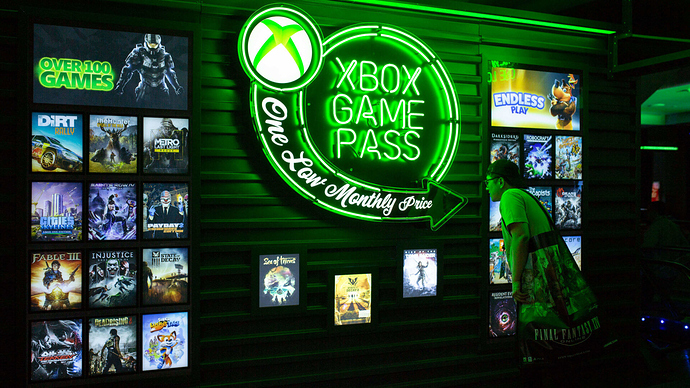 There have been a lot of discussions about Gamepass and how does the money aspect of it work out. Well I've been thinking about this and I think people have been looking at it wrong. Everyone seems to be trying to add up dollars trying to figure out where the profit is, but most have been overlooking something I think. Gamepass isn't necessarily supposed to bring in profits itself, Gamepass is more likely a replacement or alternative for full or timed exclusives.
So lets step aside for a minute and look at timed exclusive deals. Does anyone ever really question the profitability of these deals? I think there is a general understanding that these deals are made to get people to buy the console and hopefully spend on other games and services. Everyone just assumes the console maker will make it up somewhere else, so why isn't this the case for Gamepass?
Now I don't really have an idea how much money a console manufacturer actually spends on these exclusive deals but I'm going to try. If we take a basic exclusive deal I would assume the amount paid will be based on how much the publisher is going to lose being kept off other platforms. That would be something like estimated sales, microtransactions, etc… minus the 30% cut, and then adjusted for getting upfront money (time and risk), probably development costs and other things factor in too. So if you take something a 1,000,000 seller in the exclusivity period on one console that is $60M ($42M after the cut). Then we'll subtract some money for lump sum and time and we are looking at what $30M or so to buy an exclusive. Now for the one paying this amount how do they make that back? They don't necessarily have to make it back directly as in console transactions, they may just consider it a "marketing" expense.
Now if keep that amount in mind and think about Gamepass and a potential game appearing there instead of a deal like the above. With Gamepass MS doesn't necessarily ask the developer/publisher to be exclusive, most likely they will sell on other platforms. So what actually happens is there is a potential loss of sales from only the Xbox, so it is kind of like an exclusive from the Xbox while on the Xbox! So the cost of getting a game on Gamepass would be at most be what an exclusive would cost. Here's the thing though, people can still buy the game on Xbox while on Gamepass. Plus there are other benefits to being on Gamepass, the most important one being the game is way more visible for the developer. The game will be seen by more people not less.
That means it is going to a lot cheaper to convince a developer to put a game on Gamepass. They can replace one exclusive deal with multiple Gamepass deals paying developers upfront. Not only that, since MS isn't paying for a definite loss in sales they can structure the deal like this. "Ok X-Developer you might lose Xbox sales here, so we're paying you upfront, but we'll ask for a higher cut of your Xbox digital sales while you are on Gamepass. If you sell nothing, then you aren't losing anything, if you sell a lot, you still have all of the upfront money and a cut. MS has a ton of flexibility in structuring very fair deals here. So essentially MS can use their "third party exclusive" budget to bolster Gamepass while having more avenues of that money coming back (+subscriptions).
TL,DR: Gamepass doesn't need to use subscriber revenue to pay developers to be on Gamepass. They don't need to have the games be a service either. Quite simply it works the same as "buying exclusives" but just a lot cheaper. The hook to the consumer is play these games for a low monthly price instead of this is the only place to play them.