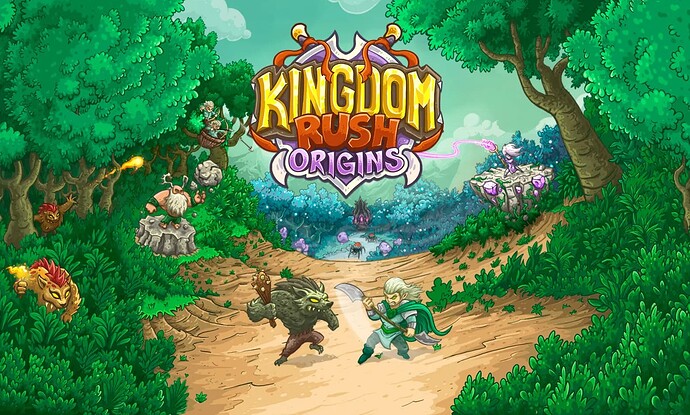 Originally published at: https://xboxera.com/2023/06/03/fantastical-tower-defense-kingdom-rush-origins-sets-up-base-on-xbox-consoles-and-pc/

Developer Ironhide Game Studio have launched their third title 'Kingdom Rush Origins' for Xbox consoles and PC with Play Anywhere support. Part of their 'Kingdom Rush' tower defense series, the game has players defend their kingdom from evil serpents, sorcerers, gnolls, and much more with the power of elves, archers, magic, and more on your side. There are plenty of stages and epic boss battles that will test your ability to defend your kingdom.
Have a gander at the trailer, gallery, and game description below. You can grab Kingdom Rush Origins from the Xbox Store right here. Check out our reviews on Kingdom Rush and Kingdom Rush Frontiers for an idea of what you can expect.
---
In Kingdom Rush Origins you get to experience Lord Vez'nan's and King Dena's story from the beginning!
Re-enter the world of Kingdom Rush and explore mysterious elven forests, magical faery realms, and even floating ruins of an ancient metropolis!

Unleash the power of the elven troops: Elf Archers, Mystic Mages, Stone Druids and the Elven Infantry make up the backbone of the army.

Discover eight new specialized tower upgrades with over 18 abilities. Vanquish enemies with elven marksmen, runed bears, magic-wielding wizards, and even giant animated trees!

Key Features


15+ mighty and mystical heroes to help you conquer victory.

8 new specialized tower upgrades with over 18 abilities
Take up arms against 30 new enemy types and engage in epic boss battles.
Master and upgrade 16 legendary heroes and their awesome powers and spells.
Enjoy hours of gameplay with over 80 achievements
Play different game modes – Classic, Iron, and Heroic
Study enemies and towers with an in-game encyclopedia.

Have epic, mystic fun!!

Kingdom Rush Origins Press Release