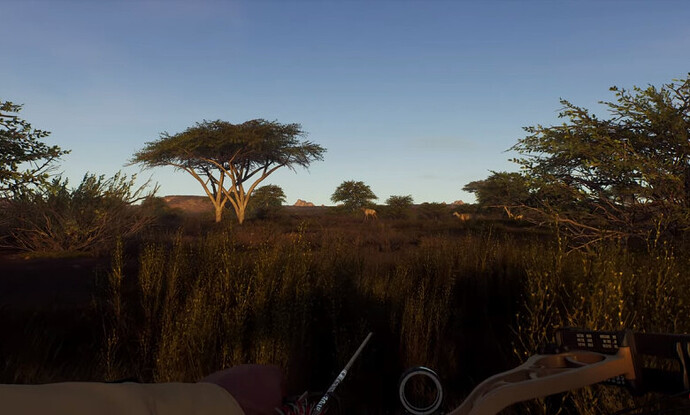 Originally published at: https://xboxera.com/2023/08/14/explore-the-tikamoon-plains-dlc-in-way-of-the-hunter-available-now-for-xbox-series-consoles/

Developer Nine Rocks Games and publisher THQ Nordic have announced the availability of the latest DLC for their immersive hunting game 'Way of the Hunter'. The 'Tikamoon Plains' DLC takes players to hunting grounds inspired by African wilderness. Encounter new species in the grasslands and desert area, and use new firearms and gear to hunt for the best trophies and decorate your lodge.
You can pick up Tikamoon Plains right now on the Xbox Store by clicking here. Players who have purchased the Season Pass will have automatic access to this DLC along with the previously released 'Aurora Shores' DLC. Way of the Hunter is available for Xbox Series consoles and is currently on sale at the time of this writing.
Have a gander at the trailer for the DLC below as well as the press beat that accompanies it.
---
WAY OF THE HUNTER
Released today, Way of the Hunter unveils an exciting new DLC that transports players to the captivating African wilds – the Tikamoon Plains! This expansion not only introduces a vast, uncharted landscape for exploration but also includes a delightful array of fresh animal species. Additionally, it brings forth new gameplay enhancements, such as expanded difficulty options and an arsenal of new weapons.

Way of the Hunter – Tikamoon Plains is available now for PC, PlayStation®5, and Xbox Series X|S at an SRP of $ 9.99 / € 9.99 / £ 7.99 on August 11, 2023. The base game Way of the Hunter is required to play. Way of the Hunter is available for PC, PlayStation®5, and Xbox Series X|S at an SRP of $ 39.99 / € 39.99 / £ 34.99.

Way of the Hunter Season Pass
It includes the new Tikamoon Plains DLC as well as the already released Aurora Shores DLC, each offering a new, vast region and coming with new animals and weapons. Also, the Way of the Hunter Hunter's Pack is included in the Season Pass. It's available at an SRP of $ 19.99 / € 19.99 / £ 15.99.

Way of the Hunter – Tikamoon Plains DLC Press Beat