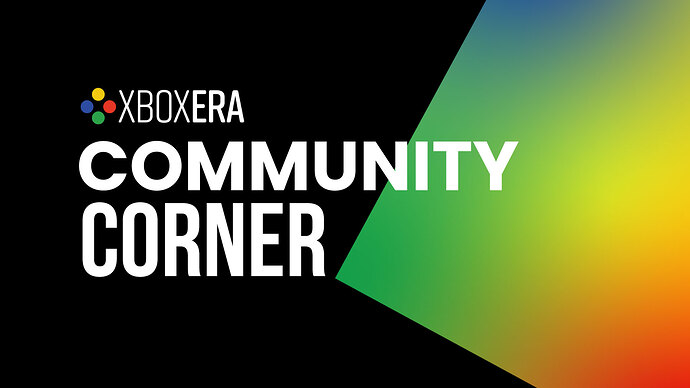 XboxEra began as an idea to give an often maligned gaming fandom, Xbox fans, a place to receive news that wasn't slanted by the opinion de jour. What began as a podcast, grew to a news and reviews site, and eventually to the multi-faceted, dozen-plus member team that you see today. You made all of this possible; whether you started as a podcast listener/viewer, as someone who stumbled upon one of our articles or videos, or you've been a forum-goer since its launch last year, the gratitude we owe you is immeasurable.
What is Community Corner?
As an token of that gratitude, the team thought that the best way to give back was to create XboxEra's "Community Corner".
Do you have an analysis that is just living rent free in your brain, and the only way to perform a peaceful eviction would be to get those thoughts out into the world for at least one person to see?
Is there an aching in your heart because you are the only person that liked the Frozen puzzle game, and if you could just tell people why it was a masterpiece world peace would be achieved?
Well that's the idea behind the new initiative; you put your best thoughts down in this OT and the last Friday of every month, we'll review and select the best ones to throw onto our new section on the main site.
We say it every chance that we can, but the team truly believes that we have the best community and we could think of no better way to prove it then to shine the spotlight for the rest of the world to see.
Guidelines
As for general guidelines, the same forum rules apply: no dogpiling on journalists/influencers, no demonization and generalization of groups, and obviously please use inoffensive language.
In general, just be a decent human being that wants to represent themselves as best they can in this amazing community.
Lengthwise, I'm not a huge fan of restrictions (my own professional articles are incapable of brevity), however I would suggest a general ballpark of 1000-2000 words; amazing arguments have been made in 500 words and the inverse is also possible in 2500, so think of this "code" as more a guideline

So, what are you waiting for? What are you passionate about? Let the world know.