Viking simulator
OK, title is a bit click-baity, sorry. I just wanted to talk about how games are not finite things like a movie or a book. Finishing Tetris, for example, is a dumb thing to even think about, as you never finish Tetris the game, but you finish a game of Tetris. Very big difference. Difference that seem to pass right through some people minds.
A few weeks ago, I was watching one of my niece (she's 10) dabbling in GTA V (just driving around and I was there at all time, of course) and I noticed how this game is so easy to pick-up and play. She's not familiar with using two sticks at the same time yet, but after 10 minutes, she was driving between cars at full speed through virtual LA streets. That's when I really understood why this series is so popular, especially among younger ones. Driving, in and out of itself, is just fun. So you don't really have to go on a mission to have fun, like in many other games: getting to that mission marker in a car IS fun, as many unexpected stuff could happen on the way. Obviously, you're also learning to drive different vehicles while navigating to your objective and that could be fun to some too.
Making big jumps, killing and being chased by the cops is also part of the fun.
Okay, yeah, many games have some fun mechanics and you could play them forever if you want to, I know. But big open world games like GTA or the Assasssin's Creed games, to only name a few, have this appeal of "finishing them is not really the point", because they are just so big and many will probably never get to the end. So these games just have to lure you with stuff happening at every corner and be fun to explore and learn their mechanics, that's just how they get you and I think that's fair. But many people still feel overwhelmed by the sheer amount of content they'll probably never see. And that had me thinking : so you won't play a game at all if you could'nt finish it ? But to me, games are not like movies or books ? And even then, I'll say that I often don't finish books and stop movies or series mid-way through if I'm bored. If the game setting interest me, it's enough to get me to try it.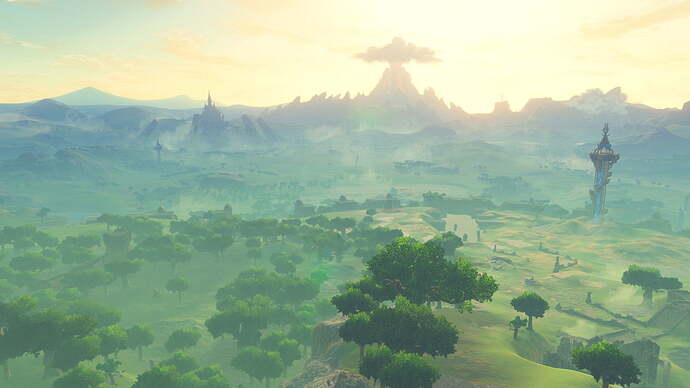 I just recently erased my BOTW save, after a year of doing shrines, and began again. The game felt new again. It amazed me.
And then, I got back to the last Assassin's Creed game : Assassin's Creed Valhalla. One of the biggest (if not the biggest) offender of the "too big to finish" genre. Ubisoft is pretty much churning out "Witcher 3 games" content wise every year or two. To be frank, I'm the kind of mad man that still have Origins and Odyssey fully installed with DLC, just in case I get the urge to immerse myself in these worlds. But Valhalla, that game totally change my mindset about those games.
And I was pretty much done with the game, almost exhausted by all the markers on the map(s). I've bought it a few months ago, played it and just dropped it after sinking 40 hours, telling myself I'll never be able to finish it. But then most recently, I wanted to play a bit of a chill game, just riding around collecting stuff, and found Valhalla the perfect game for that (RDR2 is also a really good one I recommend). I was like : "man, this game is so fun, I don't want it to end…". Riding with the sun in the corner of the screen, godrays piercing through the branches and grass all around me was so relaxing. I was playing the game, but not pressuring myself to do missions and stuff here and there. I was just playing and adjusting myself to get the most fun out of it and it felt good.
Suddenly, all the tiny markers felt fun to go to, then I searched for treasures and did some side-missions. Side-missions are a bit different from most games, because there's basically no incentives to do them, so you could totally ignore all of them like random encounters. But now that I finally let go of the idea of finishing the game, I wanted to see all these tiny handcrafted stories. I found some of them really funny, some others sad or touching. And now that I'm exploring and doing some quests again, also progressing the story bits in between, I may finish this HUGELY huge game in a year or two while having fun all the way through. If not, I'll just drop it without a second thought. But maybe I'll get the DLC (the next one looks interesting) that adds hours upon hours of content, if I feel like it. And then, I'll be ready for the next one Ubi.
These worlds are just so good to explore casually. So why not changing your mindset too and get some fun out of these big games and stop worrying about 100% them ?
Maybe 1% of the playerbase 100% them anyway…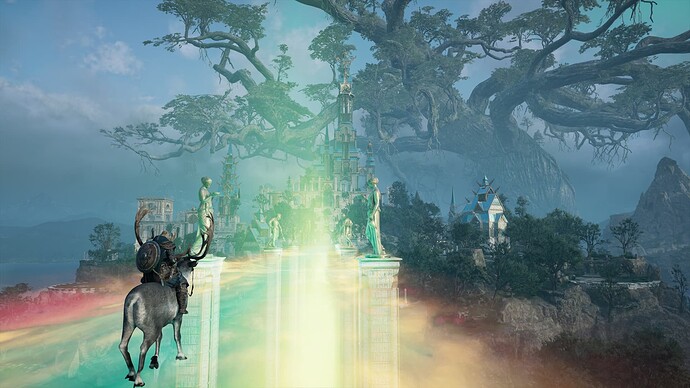 Yeah, you don't want to know how HUGE this game is…Just play it.