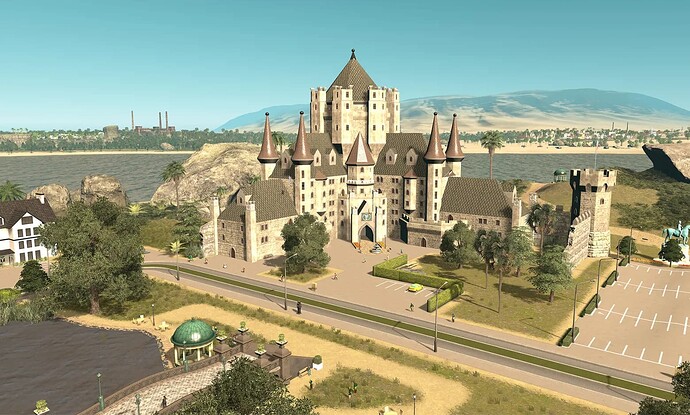 Originally published at: Beautiful Retreats Await in 'Hotels & Retreats' DLC for Cities: Skylines, Available Now on Xbox Consoles - XboxEra

Developer Paradox Interactive has announced the availability of the 'Hotels & Retreats' DLC pack, available on Xbox consoles today. This DLC expansion pack adds hotel buildings and retreats as well as management to better generate revenue for your city and add a bit of flair to your towns.
Cities: Skylines is a city management simulation game available on Xbox Game Pass for PC, console, and cloud. A remastered version is available, but this DLC is only applicable to the Xbox One and Windows 10 versions of the game at this time. You can grab the 'Hotels & Retreats' DLC right over here.
Content Creator Packs are also available as part of a bundle, featuring the likes of the Industrial Evolution, Railroads of Japan, and Brooklyn and Queens. Available separately and part of a bundle. Because every city can use a bit more pizazz.
Have a gander at the press release below for more information.
---
Paradox Interactive Launches Cities: Skylines – Hotels & Retreats, Celebrating Game's Legacy with Luxury Accomodations

Colossal Order's final expansion for the hit city builder launches alongside the Industrial Evolution, Railroads of Japan, and Brooklyn & Queens Content Creator Packs

STOCKHOLM – May 23, 2023 – Paradox Interactive today released the final expansion, Content Creator Packs, and radio stations for Cities: Skylines, marking the conclusion of the Cities: Skylines 'World Tour.' Hotels & Retreats, a mini-expansion developed by Colossal Order, lets players build vacation and tourist hotspots, adding an element of hotel management to the city-building classic. Cities: Skylines – Hotels & Retreats is available now on Steam, Epic, Microsoft Store, Xbox One, and PlayStation 4 for a suggested retail price of 7.99 USD / 6,69 GBP / 7.99 EUR. The Industrial Evolution, Railroads of Japan, and Brooklyn & Queens Content Creator Packs are also available together in a bundle alongside Hotels & Retreats for 29.99 USD / 24.99 GBP / 29.99 EUR.

"Looking back on the incredible journey of Cities: Skylines, it's clear to see that it has become more than just a game. It's a community of passionate and creative individuals who have built intricate and magnificent cities with their own unique visions," said Mariina Hallikainen, CEO of Colossal Order. "Hotels & Retreats is the last expansion for Cities: Skylines and celebrates its legacy by introducing ways for players to express their creativity."

Cities: Skylines – Hotels & Retreats gives players the tools they need to build luxury accommodations and tourist attractions to boost their city's economy. Players start with a small hotel chain and unlock more specialized accommodations.

Cities: Skylines – Hotels & Retreats Key Features:

Hotel Buildings: Hostels, cabins, hotels, luxurious resorts… you name it! Add a series of hotel buildings to your city on a range of budgets.
Hotel Management: Start with one-star hotels and unlock new options as your business revenue and popularity booms.
Tourism Buildings: New structures will support your hotels: parks, restaurants, playgrounds, and cafès.
Location: Matching hotels with good locations will be paramount, as differing locations will attract different tourist groups. We added 5 new maps for your hotels (3 European-inspired maps, 1 tropical map, and 1 temperate map)

Alongside the expansion comes three Content Creator Packs:

Industrial Evolution: Walk the path of history with "Industrial Evolution", from Community Creator Samantha "Avanya" Woods. This Content Creator Pack includes a new set of growable buildings that span different eras of industrial building styles, from red brick walls to modern, sleek industrial complexes.

Industrial Evolution includes a total of 70 new buildings inspired by both historic and contemporary industrial buildings.

Railroads of Japan: Fun discoveries await with "Railroads of Japan" from Content Creator Ryuichi Kaminogi, adding authentic Japanese railroad scenery to Cities: Skylines with stations, trains, buses, and more!

Watch your citizens travel using the metro, bus, and railroad. Decorate your commutes with networks, props, and police stations.

Brooklyn & Queens: This pack from Content Creator Prosper, is a set of medium-rise high-density residential buildings and props inspired by the neighborhoods of Brooklyn and Queens for decorating your city's facade and rooftops.

Brooklyn & Queens includes 60+ growable buildings and props, such as rental signs, window air conditioners, exhaust fans, stairways, and more!

Chill out or get fired up with these radio stations:

Piano Tunes Radio: "Piano Tunes" is the perfect Radio Station for those who love whimsical and elegant piano music. With 16 songs and approximately one hour of music, your city will rise flawlessly from your fingertips!
90's Pop Radio: Return to some 20th century classics with "90's Pop"! Enjoy 16 new tracks and almost one hour of music.

Colossal Order intends to continue general support for Cities: Skylines through the rest of the year. The remastered versions of these content packs and mini-expansion for PlayStation 5 and Xbox Series X and S will be available later this summer.

For more information, please visit the Cities: Skylines website. Follow the game on our official forums, Twitter, and Instagram.

Cities: Skylines Hotels & Retreats, Content Creator Packs Press Release