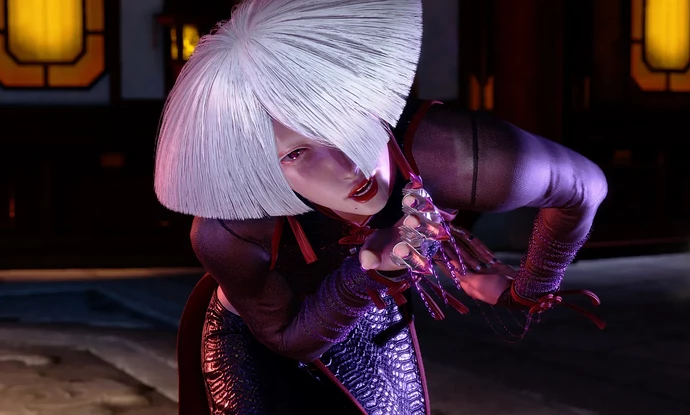 Originally published at: A.K.I. Joins 'Street Fighter 6' Roster September 27, Marks Character Number 20 - XboxEra

Developer Capcom has announced that A.K.I., the poison afficiando and trap character, will be available for Year 1 Pass holders on the 27th of September. Prior to her debut, the "A.K.I. Arrives" Fighting Pass will go live for a limited time on the 1st of September at midnight Pacific Time, giving players a chance to dress up their favourite characters in A.K.I.-themed swag.
Check out her full trailer below as well as screenshots and press release below. Street Fighter 6 is currently available on Xbox Series consoles and we're big fans of the game—check out our review on it here!
---
A.K.I. Shows Her Sinister Side in Street Fighter™ 6 Starting on Sept. 27

Get your antidotes ready! A.K.I., the newest character to join Street Fighter™ 6, slithers into the game starting on Sept. 27, 2023 across PlayStation®5, PlayStation®4, Xbox Series X|S, and PC via Steam! A.K.I. becomes the 20th playable character following Rashid's release in July. Similar to Rashid and all future DLC characters, players will encounter A.K.I.'s wickedness across all three modes of Street Fighter 6 – World Tour, Fighting Ground, and Battle Hub.

The "A.K.I. Arrives!" Fighting Pass also goes live for a limited time starting at 12am PT on Sept. 1, so players can gear up for their favorite new character with A.K.I.-themed items and cosmetics.

A.K.I. draws much of her poisonous personality and inspiration from her master F.A.N.G, who was first introduced in Street Fighter™ V. In the single player World Tour mode, players can learn more about A.K.I.'s interest in the evil Shadaloo organization and help her find her herbal medicine in Tian Hong Yuan, a new location for players to meet their newest Master and apply her deadly moves to their custom avatar.

Speaking of deadly moves, check some of them out below…if you dare:

Serpent Lash: From a distance, A.K.I. sends her nails flying forward like a chain, poisoning enemies she hits. When she strikes an opponent who is already poisoned, a Toxic Blossom will trigger an explosion and open enemies up to follow-up attacks.
Nightshade Pulse: A.K.I. sends a bubble forward that also poisons enemies it hits. She can strike the bubble with Nightshade Chaser to pop it in advance, increasing its area of effect.
Orchid Spring: A.K.I. places a puddle of poison in front of her which will affect opponents who step inside it.
Sinister Slide: Slither across the screen to avoid threats while stalking forward and perform follow-up moves like Venomous Fang, Heel Strike, or Entrapment.
Claws of Ya Zi: A.K.I.'s Level 3 Super Art pierces various pressure points on an opponent's body and injects a poison that dangerously detonates from within.

A.K.I. and her elegant Outfit 2 will be available for owners of the Year 1 Character Pass, Deluxe Edition, or Ultimate Edition on Sept. 27. Get a taste of her poison for an hour with a Rental Fighter ticket, which can be obtained via the Fighting Pass.

Year 1 of Street Fighter 6 is just starting to heat up and players can look forward to more new characters like Ed and Akuma as the year continues!

A.K.I. Press Release