That dip will be recovered very soon. It's going to be a natural growth after all unlike the Gamestop fiasco.
I'm not looking for authentic stock market analysis here, I'm having a laugh. Lol. They have been hovering just below/close to 2trill for awhile now.
It already bounced back up to 2.00
Looking at this, I wonder what Halo Infinite is going to achieve. The MP showing was amazing. It's Halo. It's F2P as well. It would be so amazing if Halo can get in that top 3 consistently. It's time for the Return of the King.
Farts in Hellblade II confirmed!

The most boring popular game Ive played.
Sure thing, and I'll be your engineer on that hype train over at the Xbox Acquisition OT

Ah this point they can acquire whatever they want if someone wants to sell.
They are closer to 11 than 10 already.
Obsidian's Project Codenames:
Louisiana - Pillars of Eternity 2

Indiana - The Outer Worlds

Mississippi - [???]

Illinois - [???]

Alabama - Avowed

Maine - Grounded

Missouri - [Josh Sawyer's unannounced project]

Arkansas - The Outer Worlds 2
Credit to user Taclane of Reddit that shared here: https://www.reddit.com/r/avowed/comments/o5ad60/avowed_is_codenamed_project_alabama/
EDIT: Digging into the Obsidian Forums. Supposedly one or both of Mississippi and Illinois was cancelled. Make of this what you will. For the stuff we know:
Alabama - Avowed (Chris Parker)
Maine - Grounded (Brennecke)
Missouri - Unknown (Josh Sawyer)
Arkansas - Outer Worlds 2 (Probably Cain and Boyarsky)
Other Directors: Megan Starks (Murder on Eridanos), Brandon Adler (POE 2 DLC), Carrie Patel (Peril on Gorgon)
They may be working on another game or DLC, as all three of them tend to wear many hats.
Give Megan Starks a game. Murder in Eridanos was the best part of an already great game.
I play that game almost daily, maybe I have a problem!
That would have been somewhat true if they had left it in the same state it was at launch though, which they didn't! And even then the Bethesda name is too strong, you'd have to do worse than that to stain it haha
She already said a couple of weeks ago that she was on The Outer Worlds 2, we don't know her specific role though.
Megan Starks is working on TOW2 (I don't know the role though)
Matty has a new video online about ToW 2 and Avowed, about how they might be coming sooner than we thought. Nothing really new. But he does show this and I wonder…did we see this before?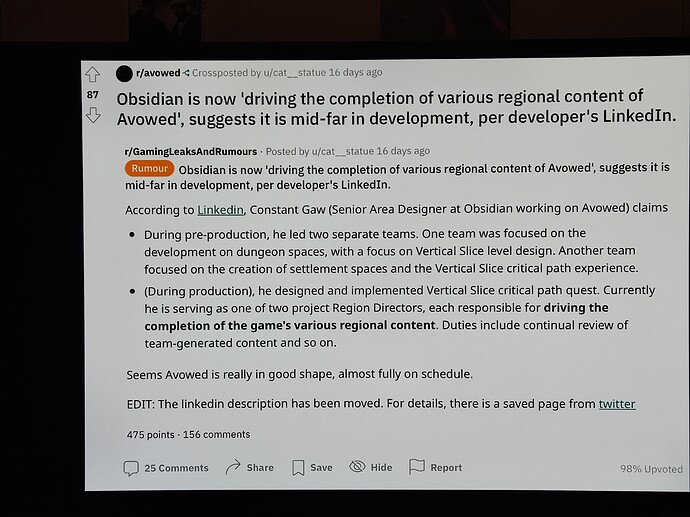 First quarter 2023 seems reasonable for Avowed IMO.
Starfield and then Avowed 4 months later?