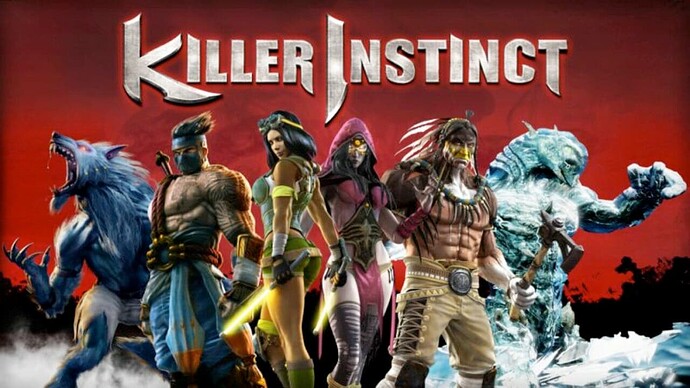 What do you want to see from a new KI?
As I have a lot to say about control and accessibility, I am going to put that part in a separate reply (hope this is OK mods), since it's not conducive to conversation to have the opening post be an essay.
Content
Treat it like a flagship IP, not an XBLA game like the last one. This means:
All modes and features that were introduced to KI2013 over the seasons return.

Full story mode with voice acting and animations in the formula Netherealm employs.

At least 16 characters at launch, ideally 20+, with a new set each year for the next few years as DLC towards an SFV-equivalent ~35.

Return all characters from KI2013 over the seasons of the game, some changed, some largely the same. Guest characters like General RAAM, Rash, Arbiter should be re-skinned and return as actual characters in the story and KI world. At least one or two new characters a season.

Every character having their own stage, every stage having a stage finisher.

Every character having well-thought-out and not comical/wacky alt costumes (HATED the cheesy alt costumes in KI2013).

Every character having an Ultra and Ultimate move.
I want it to be a reboot rather than a sequel, but to draw heavily from existing lore developed over both the 90s and originals and 2013 iterations of the franchise. Get a talented sci-fi author to connect all the characters and concepts into a coherent story. The story should be planned out from the start to be told over three or four episodes with the first (longest) in the launch game and the following two/three chapters to the epic conclusion dropped with the annual DLC packs.
Look and feel
I am very passionate about returning to the iconic and original art style of the original games. It was so ahead of its time – having a 'Pixar animation' style look before Pixar was even a thing, and being full of character.
The 2013 reboot went for a bland generic style and never won any plaudits for graphical fidelity either. I think taking what modern tech can deliver with the more stylised art style of the original could produce some spectacular high fidelity Pixar-esque results.
But that said, the actual character designs, aside from the art style, of the 2013 characters should be preserved.
So the badass looking Thunder, dripping in paint, developed in consultation with a member of the Nez Perce tribe, should be recreated in the OG KI style, not a reversion to the crude ethnic stereotype of the original games. Equally, the realistically bodied and dressed for action Orchid of the 2013 games would be recreated in the OG style, rather than the cartoon anatomy and skimpy leotard of the originals.
That's the basics of what I want to see. What about you?