Great video. I want to see more videos like this on the official channel. It's short, informative and makes me want to play the game right now. I can't wait.
I hope this is how they showcase new games moving forward.
This game is looking incredible.
Can't wait to play it
Such a shame it's not a second-party game through
Xbox Game Studios – Publishing

Bruh this whole thing was so fucking high quality, and the game just keeps looking better by the day.
Honestly this could have been an "Ascent Xbox State of Play" in itself cuz of how extensive it went and how engaging the commentary was.
Xbox did this with Assassin's Creed prior to this at least from what I remember, but I hope they keep doing these for more games in the future. Looking forward to the Tunic deep dive next lol
Yeah, it was pretty in depth, but easy to understand with the footage. No BS, they show you directly how cover mechanics and the AI works in the game. I really appreciate the effort.
Will watch the video later but I agree with those who say this is how Microsoft should showcase upcoming releases in the future. My only thing would be that I would make it like a Nintendo Direct or State of Play when they focus on a single title. Give it a few days advertising/marketing time and have a 20-30 minute showcase.
Would put more eyes on the game that is being showcased and gets people talking for the few days leading up to the showcase and afterwards.
This is how it should be done! Advertise it beforehand, wrap it in some marketing and call it a State of Direct Xbox or whatever.
Had literally exactly this same thought. And frankly, with the number of games they have in 2nd half 2021, they should just do one of these every few weeks. Their SoT one just prior to the release of their new content woulda been a perfect SoP-like thing too. They coulda done one for the Doom upgrade and Grounded the week after, then do stuff for FlightSim and The Ascent and Death's Door all this month. Could legit do like 1 every week an likely be covered for a while (12 Minutes, Hades, Psychonauts, Halo MP(?) for August).
Seems like a missed opportunity to continuously stay at the center of attn for gamers.
Only if they would announced earlier that we could expect something like this. More people would know, would be prepared, maybe would be more interesting, instead of that shadow drops

As much as I want to watch it, I really do want to go in blind. So I shall refrain!
Just watched it. Looks great. One question though, can the cursor/reticle be turned off? Because it's not there when the player is shooting in the beginning but after that, it's on the screen constantly. Thanks.
It doesn't show anything new relate to story or settings at all rly. It is just showing how the design was done and how certain stuff like AI was implemented.
That was an excellent feature
But now the real importamt question…does anyone really believe that guy's first name is actually Arcade?
Either its a sort of nickname that has become the official or his parents were way too cool for their time lolol
I agree, but my only doubt would be that it's very difficult and expensive to have the same production quality for a deep dive for something every two weeks to a month. Another thing being that in this deep dive they went in depth into the design and systems with accompanying dev build snippets, infographics, mechanics demonstrations, etc that requires a lot more effort than just a simple gameplay demo with commentary on top like your usual Direct/State of Play. Maybe a middle ground can be found where not every game has this extensive of a breakdown/deep-dive. Maybe it can depend on the developer's willingness and ability to go about producing a high quality deep dive similar to The Ascent one. Even the basic demo with commentary would suffice at that point, granted the demo is super polished and sell the game one last time for maybe those on the fence still. Ultimately, all of this should be marketed heavily by Xbox, tbh they should have to pivot their entire marketing structure around this and that shall probably take some time and effort, but it'll be worth it.
If the game is even half as good as it looks, I hope MS acquire them. For a new studio on their first game, MS certainly seems to have a lot of faith in them, from the amount of promotion they have given what is (unless they acquire or do some kind of contract deal) a timed exclusive.
Arcade Berg, the co-founder previously worked at Machinegames as Senior Game Designer on Wolfenstein New Colossus and Old Blood, also prior to it worked as Game Designer on Gears of War Judgement.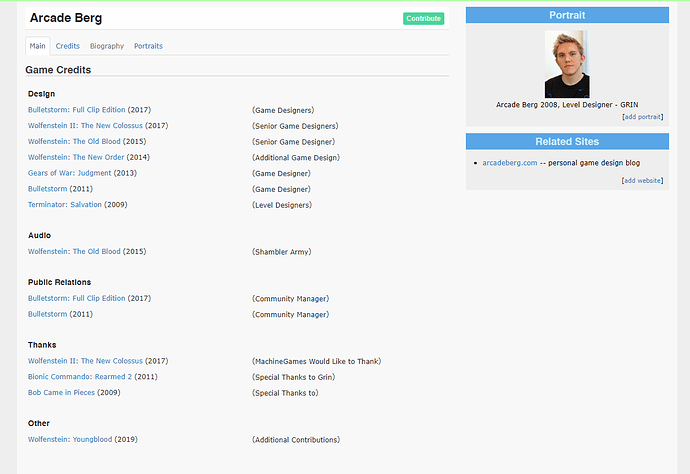 Soooo the history is kind of already there if the acquisition was ever in talks.
Still undecided if I will solo this first, so that I can properly follow the story or go co-op.