Nice numbers. Amy Hood will refill the cash reserves for the next gaming deal in less than 3 quarters.
That's better, share price now up +1.68% in post-trading.
Buy the dip. Also, the conference call made it all the better. Who wouldn't buy it after hearing two games hitting over 15 millions. It's freaking amazing. Now, once CoD becomes exclusive and Game Pass, oh man, the numbers will break, even without one platform. Don't forget Steam will likely get it back. The future is so exciting!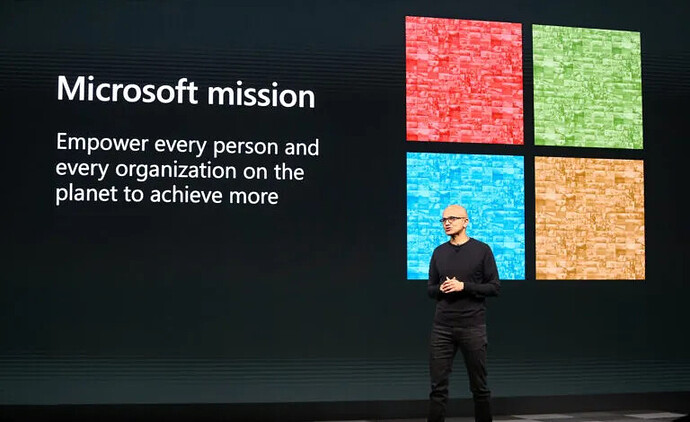 Originally published at: https://xboxera.com/2022/01/25/microsoft-earnings-show-18-8-billion-in-profits-and-51-7-billion-in-revenue-and-strong-performance-in-windows-and-xbox/

Another three months have passed, which means a new earnings call for Microsoft. In the past three months, which ended December 31, 2021 Microsoft had a revenue of 51.7 billion dollars, with a net income of 18.8 billion dollars.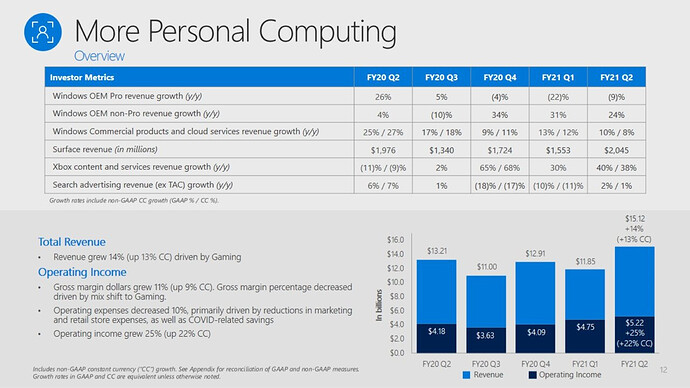 Gaming & Windows
Xbox revenue growth in line with expectations, mostly due to better than expected console supplies. During the earnings call Chief Financial Officer Amy Hood mentioned supply constraints will continue in the next quarter.
Software and services – for which revenue increased 10 percent last quarter – performed lower than expected. First party and services performed well, which was partially offset by weaker revenue from third party titles. During the earnings call Microsoft announced Halo Infinite has been played by 20 million people, while Forza Horizon 5 has been played by 18 million people.
For the next quarter Microsoft is expecting a single digit revenue growth for Xbox. Obviously this doesn't include the Activision Blizzard deal, which isn't expected to close soon.
Meanwhile the PC market is doing very well, due to the pandemic demand has been up, while supply constraints are also visible in this market.
Halo 20mil, FH5 18mil…wow. 0.0
I did, last year at 233, then at 257.

Would have brought more but with everything going on lately I've been buying dips elsewhere.
Now at +3.13%, $297.50…oh, its failing back now, +2.56%.
EDIT: Yep, the future is bright. First-party, hardware and services for gaming are on fire at MS.
That is what shook me the most during the last 20 minutes for questions. No one brought up the gaming acquisition. I guess even the stock holders see the value in the gaming market.
It's time to skyrocket Xbox, I'm expecting strong deals for gamepass going forward, they showed they have the money and aren't afraid to use it.
No way did investors not even ask one question about Xbox when Microsoft literally agreed the biggest acquisition in the company's history
.
And people want to know why Microsoft is not forthcoming with numbers, it is because they don't have to because investors aren't too bothered.
If I was Xbox and I want to troll, I would announce Monopoly board game featuring Xbox characters. Hey, it could generate revenue.
I can't believe I did not think of this.
While the Internet was melting down over the news last Tuesday, Microsoft's investors were more like this lol:
America will measure in anything but metric