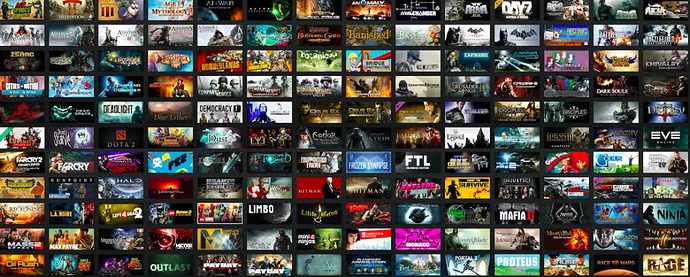 I've been wanting to discuss this for a while and didn't want to just make a "step by step" kind of list but instead wanted to make something that's well thought out and really portrayed how I feel about backlogs. Because I would reckon that nearly everyone here has it and probably a good majority of people have fairly sizable backlogs that they feel they have no hope of ever completing.
And they're right to feel that way, backlogs never die, they always grow because games never stop coming out. Games that you thought may not have been on your radar can suddenly jump to a high spot on your "i gotta play that" list. I never thought I'd want to play Saints Row 3 again but Lo and Behold its now on a top spot on my supposed "backlog"
I believe that part of what makes what we consider a backlog is psychological. Most would agree that a backlog is simply a list of games that have come out that we haven't gotten around to playing. However lets think about how we form our backlogs.
For my example I'll use 3 games, Sekiro, Nioh and Bloodborne. I made another thread recently about games that we want to play but know that we never will because we have to make room for other games. I would love to play Sekiro, Nioh and Bloodborne but I know that I'm likely never going to play these games. So…would I put these 3 masterpieces on my backlog? I wouldn't, because even though I have a desire to play these games, I don't have the intention of playing them.
So I consider that a good parameter on if a game is truly a backlog game. Do you have the intention of playing a game? Or do you simply just want to play the game? In the former case, I wouldn't consider it a backlog game.
Another factor to consider with a backlog game. How do you mark a game off of your backlog? Do you have to beat it? Or just simply play it. Obviously with the latter one can clear a backlog fairly quickly. You can play a game for an hour and check it off the list. So ask yourself, how far am I willing to go with this game?
One game that was a heavy backlog game for me ei wanted to play it, had the intention of playing it and in this case have the intention of beating it is Persona 5 Royal, been playing it for the last few days now and am loving it and will likely play it through completion. Not Platinum it but pretty much go through the main story and the extra content.
Also ask yourself, are you or will you actually enjoy the game? I feel that a lot of gamers including yours truly suffer from mild OCD on actually finishing a game. Could be the addictive nature of achievements and how some people hate having a game where the achievements show that you played it but never finished it.
I suffered through games like Dead Rising 4, Arkham Origins, Assassins Creed Syndicate and Unity etc that I wasn't enjoying and in some cases even hated but still had to finish them because I felt I could only mark them complete and off my BL if I actually finished them.
Life is too short to play games you won't enjoy and I'm happy to say that I finally kicked that OCD habit. Last year I played an JRPG on the Switch called Octopath and about 2 hours in once I stopped enjoying it, I no longer had to urge to finish it. I put the game down, never touched it again and have no intention of ever touching it again. Moral of the story, if you're not enjoying the game, then put it down and go play something else.
Let me summarize this with 4 tips I believe can help with someone who may be overwhelmed with a backlog
Rethink what you consider a backlog, the game itself and why its on your backlog, what do you have to do to get it off of your backlog ei play it, beat it etc

Your backlog is never going to be completed, and that's OK. Even if you have no other hobbies or commitments, its inhumanly possible unless you have a DBZ Hyperbolic time chamber somewhere you can play for a year where only day passes in the real world. Its just not going to happen especially if you're backlog is riddled with 40+ hour long RPG's.

Remember that there is no time limit, aside dying of course. Recently I had to create a new gamertag as I deleted my old one of 15 years. Part of my backlog is all the main Assassins Creed games but I intend on taking my time, even if I only do one sequence a week or even a month. Progress is progress.

Finally and most importantly…If you're not having fun then STOP, games are meant for enjoyment not to suffer. Knock that fucker off your BL immediately and never look back.