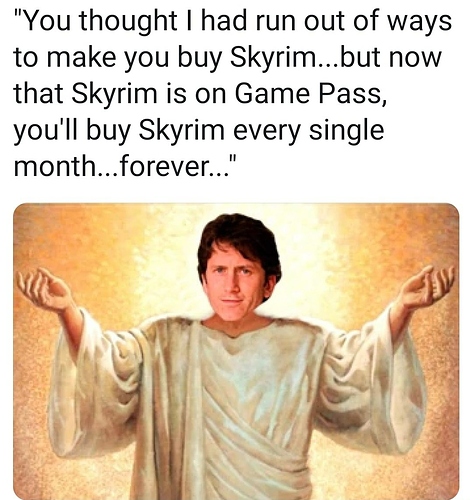 I mean…I'm sure all the devs will get whatever they need to make the best games possible, not like MS is short on cash or anything
But I watched the Major Nelson podcast and I see that look in Todd's eyes. Its likely he was just thinking of what Ferrari he's going to buy since he probably made out like a bandit from the Zenimax sale
But what I really mean is that I get the feeling that MS is probably going to pump more money and resources into Bethesda (the actual studio) than any of their other studios with the exception of Mojang. Yes, even more than 343i and Halo.
I don't doubt for a second that they're going to want to make Fallout, TES and Starfield their biggest non Minecraft franchises. But I'm excited because as a fan of Fallout (not 4 though ew ) and TES I'm extremely excited to see what a full blown Bethesda RPG with a shit ton of investment and QA can do.
Case in point
Klob brought up that Bethesda (actual studio) has a TON of openings right now. Also I have a feeling Todd and Pete are probably going to get paid a shit ton of money in addition just to stay on board will probably be running the entire Bethesda publishing side similar to how Matt runs the XGS side of things.
TLDR: I expect Bethesda (actual studio) to become the new flagship studio of Xbox and Todd and Pete to get treated like royalty.